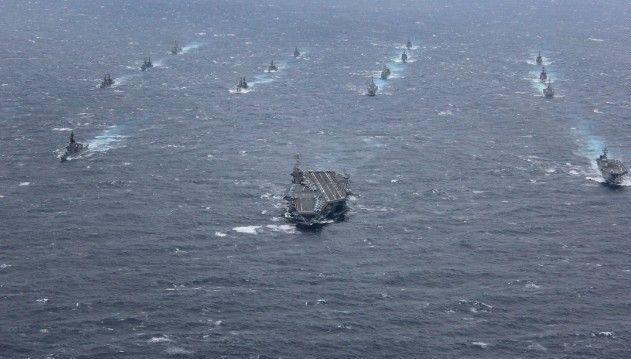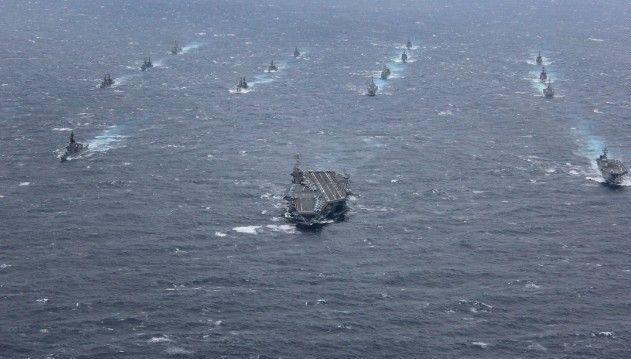 The United States and Japan are taking part in a huge naval exercise involving dozens of warships, submarines and aircraft off the island of Okinawa, amid heightened tensions with China.
The AnnualEx 2013 war games, which kicked off on November 25, are designed to increase the defensive readiness and interoperability of US naval forces and their Japanese counterparts, according to the US Navy.
Led by the huge 90,000 ton Nimitz-class aircraft carrier, this year's AnnualEX 2013 war games brought together dozens of warships from both the US and Japanese navies to test their abilities.
Also involved in the massive military exercise was the USS George Washington. With over 5,000 crew and 80 aircraft, the USS George Washington is the US Navy's only carrier deployed permanently outside the United States.
But this year's war games have taken place in a high-pressure atmosphere in the region because of the new Air Defense Identification Zone announced by the Chinese last weekend.
This new zone requires that all military aircraft flying over the East China Sea must report their flight plans to China, maintain two-way radio and clearly mark their nationalities on the aircraft. China has warned it will take "defensive measures" if their orders are ignored.
The US, South Korea, and Japan have all rejected China's demand that all aircraft flying over the new zone should provide full flight plans. On Monday, a pair of American B-52 bombers entered the air defense zone without informing the Chinese government.
The US has seen itself as the dominant power in Asia for long years and is now concerned about China's growing influence in the region. Chinese officials however, say the zone is in line with the practice of other nations that have similar zones to protect their coasts.
Earlier in the month, a US congressional panel, which advises lawmakers on the national security implications of the relationship between Washington and Beijing, warned that China could possess the largest fleet of modern submarine and combatant ships in the western Pacific by 2020.
The US-China Economic and Security Review Commission said in its annual report that Beijing's military modernization is challenging decades of US pre-eminence in the region.