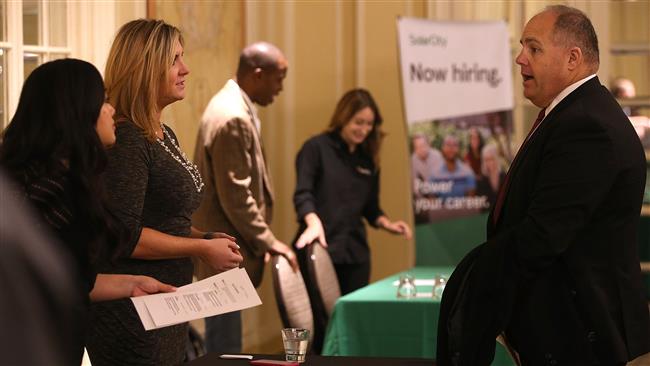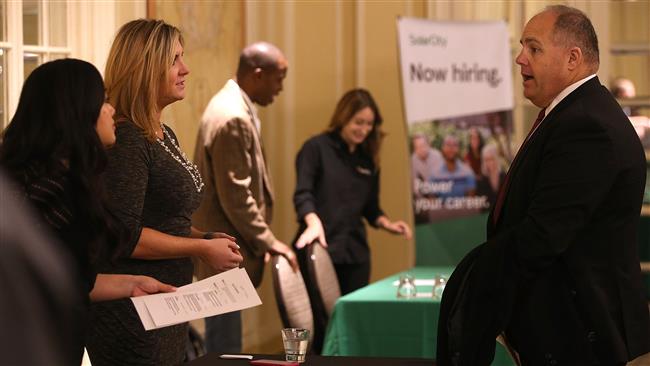 US job creation in May fell to its lowest level in almost six years as manufacturing and construction employment fell sharply, heightening worries about economic growth.
US employers added only 38,000 jobs last month, the smallest gain since September 2010, the US Labor Department said on Friday.
The job creation figure for May was far short of expectations. Economists polled by Reuters had forecast payrolls rising by 164,000.
The unemployment rate fell to 4.7 percent from percent, but this was partly due to people dropping out of the labor force and no longer being counted as unemployed by the government.
The labor force participation rate, or the share of working-age Americans who are employed or seeking a job, decreased 0.2 percentage point to 62.6 percent.
"This is not a good report, and it may well give Fed officials second thoughts about increasing interest rates again this month or next, as some have suggested lately," said Peter Ireland, an economics professor at Boston College.
The weak hiring suggests a worsening labor market that could make it harder for the US central bank — also known as the Federal Reserve or simply as the Fed‍ — to raise interest rates.
"The slowdown in job growth looks pretty pervasive across industries," said Michael Feroli, chief US economist at JPMorgan Chase & Co. in New York. "It raises some questions about the momentum of growth and about the outlook.
The weak US jobs report sent the dollar and stocks sinking. The dollar index — a gauge of the US currency against other reserve currencies — was down 1.5 per cent on the day at 94.15, after hitting a two-month intraday high of 95.97 on Monday.
The euro was up 1.6 per cent at $1.330 while the dollar was down 2 per cent against the yen at a one-month low of ¥106.70. The dollar was down 1.6 per cent against the Russian rouble, while the Australian dollar climbed 1.5 per cent.