North America
Syria
US-led coalition destroys everything in Syria except for Daesh: Syria FM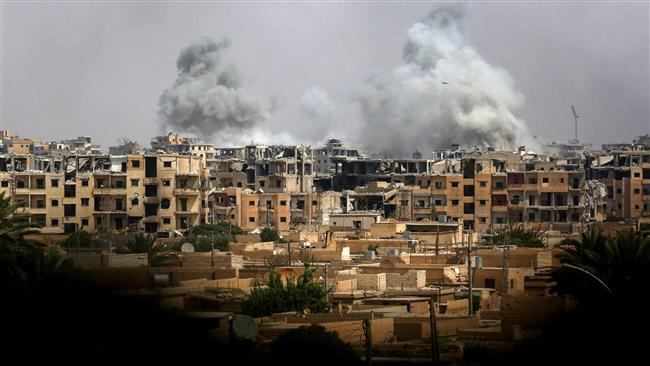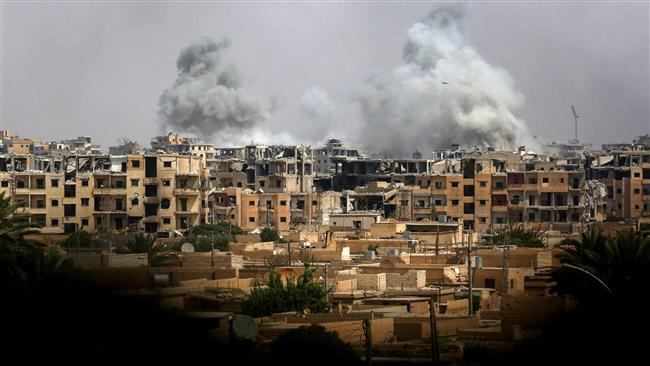 Syrian Foreign Minister Walid al-Muallem says the US-led coalition purportedly fighting the Daesh Takfiri terrorist group is trying to destroy the Arab country and prolong the armed conflict there.
Muallem stated that Damascus would demand the dissolution of the military contingent, stressing that thousands of Syrian women and children had been killed by coalition airstrikes in the troubled northern province of Raqqah and the eastern province of Dayr al-Zawr.
The top Syrian diplomat further noted that the Pentagon was using the coalition to cover up its destruction campaign in Syria.
He added that the US-backed militiamen from the so-called Syrian Democratic Forces (SDF) are fighting Syrian army forces to gain control over the oil-rich areas of the country.
Damascus would not allow any external force to violate its sovereignty, Muallem pointed out.
The SDF forces "are now intoxicated with US aid and support, but it must be understood that this assistance will not last forever," he said.
The US-led coalition has been conducting airstrikes against what are said to be Daesh targets inside Syria since September 2014 without any authorization from the Damascus government or a UN mandate.
The military alliance has repeatedly been accused of targeting and killing civilians. It has also been largely incapable of achieving its declared goal of destroying Daesh.
Fifteen people were killed on October 4, when US-led warplanes targeted a residential building in the al-Kahroba neighborhood of Raqqah, located about 455 kilometers (283 miles) northeast of the capital Damascus.
The development came only a day after 21 civilians lost their lives and 14 others sustained injuries in US-led aerial attacks against al-Tausiyah neighborhood of the same Syrian city.
The city of Raqqah, which lies on the northern bank of the Euphrates River, was overrun by Daesh terrorists in March 2013, and was proclaimed the center for most of the Takfiris' administrative and control tasks the following year.
Although tens of thousands of civilians have fled Raqqah in recent months, the United Nations Office for the Coordination of Humanitarian Affairs estimates that about 160,000 people remain in the city.
On October 4, the Syrian Foreign Ministry, in two separate letters sent to UN Secretary General António Guterres and UN Security Council rotating President François Delattre, criticized the international community's silence towards US atrocities in the Arab country.