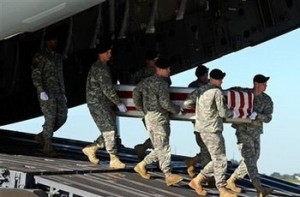 Another US-led soldier as part of the foreign presence in Afghanistan has been killed in the country's east amid escalading violence.
NATO said in a statement on Tuesday that the soldier was killed by small arms fire. The alliance, however, did not disclose the nationality of the soldier and the location of the incident.
Earlier, a British soldier died of his wounds sustained in southern Afghanistan.
The deaths bring the number of foreign troops killed in Afghanistan so far this year to 262.
The rising number of casualties has increased opposition to the Afghan war in the member states of the western military alliance.
Despite the presence of nearly 130,000 US-led soldiers in the war-torn country, Taliban militancy has reached a new height and civilians continue to pay the price for the 2001 US-led invasion that sought to uproot the militants.