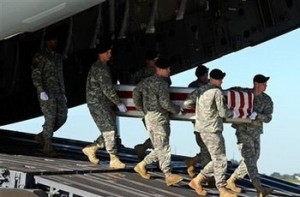 Another US-led soldier has been killed in Afghanistan's troubled south amid growing attacks on the foreign forces in the country.
The US-led International Security Assistance Force said in a statement that the soldier was killed by small arms fire in the volatile region on Friday.
The location of the incident and the nationality of the soldiers were not announced. The death brought the number of NATO soldiers killed in Afghanistan this year to 229.
In a separate incident, rockets fired at a NATO base in southern Afghanistan left several foreign troops wounded.
Militants targeted the Kandahar airfield with four rockets just hours apart.
This is the second time the compound has come under attack over the past two weeks. On May 22, it was targeted on the ground and by rockets.
Last year was the deadliest year for foreign troops stationed in Afghanistan under the command of the United States, which led the invasion of the country nine years ago. A total of 520 US-led soldiers died in 2009.
NATO currently has about 130,000 soldiers in the war-torn country. The US has plans to deploy 30,000 extra troops by August.