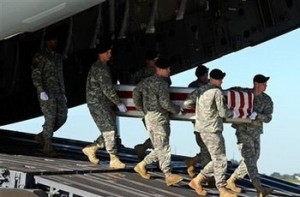 A NATO soldier has been killed in a roadside bomb explosion in the troubled southern Afghanistan amid climbing casualties among the foreign forces there.
There are no details about the nationality of the soldier and the exact location of the incident yet.
More than 150 foreign soldiers have been killed in Afghanistan so far this year.
Earlier in the day, a bomb had torn through a bus carrying a mine clearance team in Helmand province. That attack left four people dead and more than a dozen others injured.
There are currently over 120,000 foreign troops in Afghanistan, and the US and its NATO allies have announced the pending deployment of 30,000 more troops.
This year, the US-led troops have been suffering the highest fatality rates in Afghanistan since 2001.