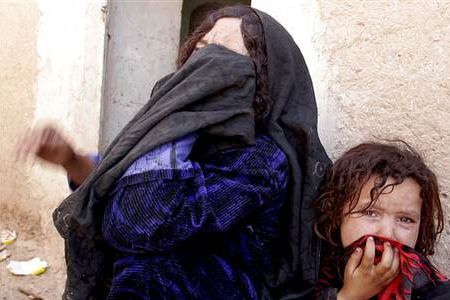 A US-led airstrike has targeted a house in eastern Afghanistan, killing at least 13 civilians, including eight children, police officials say.
According to police officials, the US-led forces carried out the aerial attack on Wednesday in Khost Province, east the war-ravaged country, a Press TV correspondent reported on Thursday.
Those killed included eight children, two women and three men. Children have increasingly fallen victim to US-led operations in Afghanistan over the past months.
Following the US-led military attack, a large crowd of Afghans held an angry protest rally against the foreign forces.
Earlier, a NATO air attack killed two children in Ghazni province. Afghan people held an angry protest against the US-led forces in the country.
In early March, a US-led air strike claimed the lives of nine children, aged between seven and nine, in Darah-Ye Pech district in Kunar province in northeast Afghanistan.
Hundreds of civilians have been killed in the US-led airstrikes and ground operations in various parts of Afghanistan over the past few months, with Afghans becoming increasingly outraged over the seemingly endless number of deadly assaults.
Civilian casualties have long been a source of friction between the Afghan government and US-led foreign forces. The loss of civilian lives at the hands of foreign forces has drastically raised anti-American sentiments in Afghanistan.
The surge in violence in the country comes despite the presence of nearly 150,000 foreign troops that claim to be engaged in a so-called war on terror.
The US-led war in Afghanistan, with civilian and military casualties at record highs, has become the longest war in the US history.