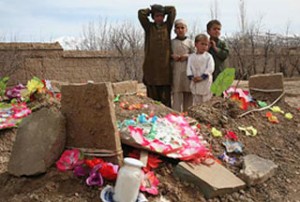 At least four Afghan civilians have been killed and 23 others wounded in Afghanistan after US-led troops opened fire on a bus.
The foreign troops attacked a bus in Kandahar's Zhari district early Monday. Women and one child were among those who were killed.
Passengers of the targeted bus were heading to Herat province, local governor's spokesman Zelmai Ayubi said.
He added that 12 of the wounded were transferred to a military hospital and the others were taken to local hospitals.
NATO confirmed the shooting, saying a joint Afghan-NATO investigation team has been sent to the scene of the killings.
The Western alliance is already probing the murder of four civilians in Helmand province.
Earlier this month, NATO admitted that its troops killed several civilians in the southeast of the country in February. NATO is increasingly under fire from both the Afghan public and Kabul over its killing of civilians.