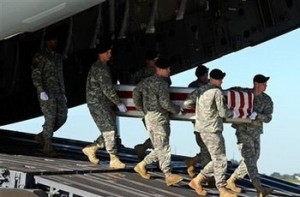 An American trooper has died in southern Afghanistan as a result of a bomb explosion, says the US-led coalition force deployed in the war-torn country.
The Tuesday death brought to 467 the casualties sustained by the International Security Assistance Force (ISAF) in Afghanistan this year — the highest death toll over eight years of so-called counterinsurgency operations. Americans comprise half of the mortalities.
"The service member was from the United States," ISAF said in a statement.
Despite enlisting about 110,000 troops on the Afghan soil, the US-led coalition has also fallen unprecedentedly short of curbing the violence.
Washington, however, entertains hopes of assigning some 40,000 extra troops to Afghanistan.
US President Barack Obama's national security adviser, James Jones, on Saturday warned against a troop surge, saying, "You can keep on putting troops in, and you could have 200,000 troops there and Afghanistan will swallow them up as it has done in the past."