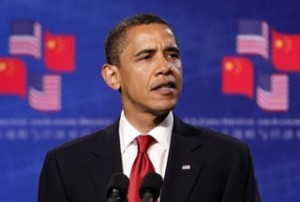 US President Barack Obama extends sanctions on Syria over allegations of that country's involvement in brewing "instability" in the Middle East.
Despite his earlier measures taken to improve ties and to ease trade with Damascus, Obama issued a decree on Thursday that sanctions an additional year of embargoes on Syria.
The US president recounted a number of actions initiated during his time in office, trying to strike a positive note on the bilateral relations.
Referring to his administration's gesture of goodwill to establish peace in the Middle East, the US president said that there have been "some positive developments in the past year, including the establishment of diplomatic relations and an exchange of ambassadors between Lebanon and Syria."
However, he blamed unspecified Syrian elements as the motive for his decision to add time to US sanctions on the country.
"The actions of certain persons continue to contribute to political and economic instability in Lebanon and the region and constitute a continuing unusual and extraordinary threat to the national security and foreign policy of the United States," Obama said in his statement.
Obama's proclamation will add momentum to sanctions originally launched under former President George W. Bush in the summer of 2007 based on similar grounds.
Washington has imposed wide-ranging restrictions on trade and the diplomatic ties of Damascus.
It has also frozen the assets of a number of Syrians, accusing them of making an effort to dismantle Lebanon's autonomy.
Syria unequivocally rejects US allegations.