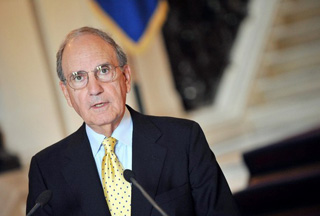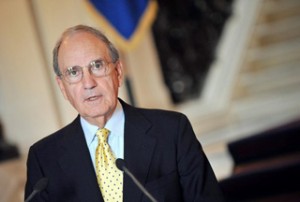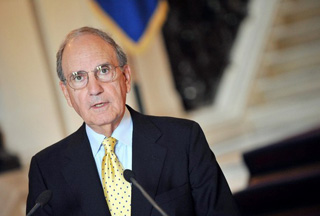 US envoy to the Middle East George Mitchell is slated to visit Syria on Friday in a bid to improve ties with Damascus and develop the so-called Arab-Israeli peace plan.
"Special envoy George Mitchell is in Abu Dhabi, first of several stops in the region. He will be in Damascus, Syria, tomorrow," State Department spokesman Philip Crowley said on Thursday.
Crowley further pointed out that the visit is aimed at "trying to see what Syria's prepared to do, you know, to move towards a comprehensive process".
"We're also trying to develop… bilateral issues that we have with the Syrians as well. I would imagine both of those will come up," he added.
"He will be in Israel on Sunday, for meetings with Israeli officials and Palestinian officials. He has other stops planned in Egypt and Bahrain during this trip," the spokesman explained.
The Obama administration's special envoy is also seeking to jump-start negotiations between the Palestinians and the Israelis, which have been stalled for months over Jewish settlement construction.
The Palestinians have repeatedly said that they would resume the long-stalled peace talks only after Tel Aviv stops settlement activity in the West Bank — which was captured by Israel during 1967 war.
The United States, supporting a two-state solution to end the long running Israeli-Palestinians conflict, wants Israel to put an end to all settlement activity in the occupied territories, which is considered as the main obstacle to peace.
The government of Israeli Prime Minister Benjamin Netanyahu has so far rejected world wide demands for settlement work to stop, saying it is pushing to retain what it calls "natural growth".
The settlements are built on the land Israel occupied in the 1967 Middle East war and are in violation of the Fourth Geneva Convention, which says the occupying power is not allowed to transfer citizens from its own territory to the occupied territory.