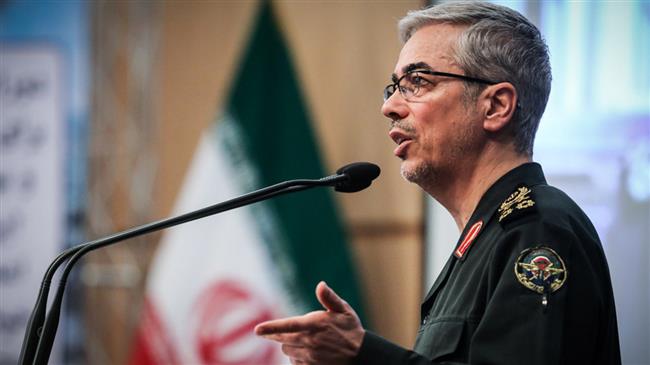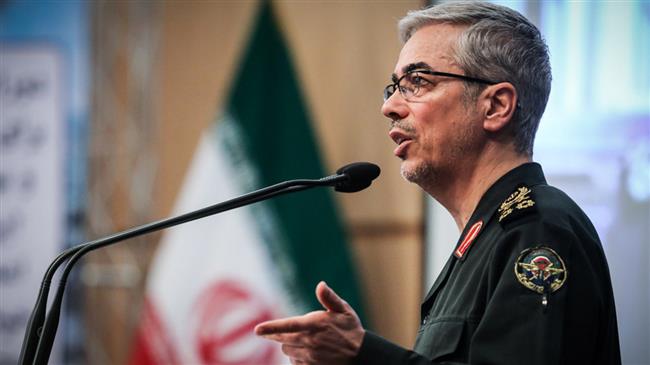 Iran's top military commander says the United States is transferring Daesh to Afghanistan now that the terrorists have lost their strongholds in Iraq and Syria.
Chief of Staff of the Iranian Armed Forces Major General Mohammad Baqeri told Tasnim news agency on Tuesday that continued tensions in Southwest Asia would provide Americans with the much-desired pretext to prolong their military presence there.
A calm region, he said, would obviously mean that the US should withdraw its forces and that regional countries would take charge of their own security.
"After witnessing Daesh and other organized terrorist groups losing their ground in Iraq and Syria, they are now relocating them to Afghanistan," which has become the scene of fresh explosions, assassinations and crimes, Baqeri said.
He warned that the US continues to work on such schemes and expressed hope that the Afghan people will join hands to counter these plots.
Media reports emerged Monday about the US military  pulling forces from a base in Iraq and moving them to Afghanistan.
Western contractors say US troops began the drawdown over the past week, with groups of soldiers leaving the base on daily flights.
Only recently, Leader of the Islamic Revolution Ayatollah Seyyed Ali Khamenei warned about Washington relocating Daesh from the Middle East to Afghanistan in an effort to come up with a legitimate excuse for its continued military presence in the region.
"The same hands that created Daesh as a tool to oppress people in Syria and Iraq and carry out crimes against them are today seeking to transfer Daesh to Afghanistan after its defeats there," the Leader stated.
Ayatollah Khamenei says the US is seeking to legitimize its presence in the region by moving the terrorists from Iraq and Syria to Afghanistan.
The US and its allies invaded Afghanistan under the guise of the war on terror. Some 17 years on, the Taliban militant group has only boosted its campaign of violence, targeting both Afghan civilians and security forces in bloody assaults.
More recently, Daesh has established a foothold in eastern and northern Afghanistan and stepped up its attacks despite the presence of thousands of foreign troops there.