North America
US Navy issues 'stop-work order' following second warship blaze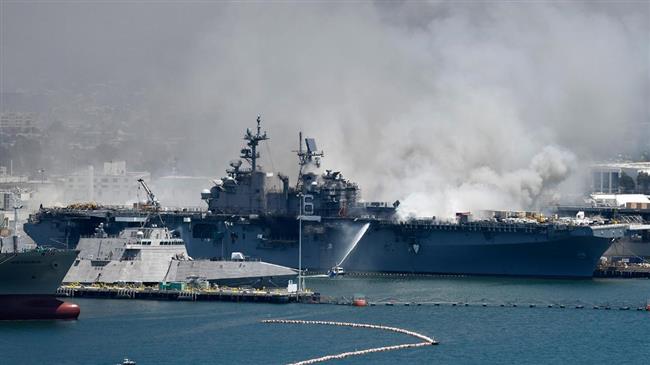 The US Navy has issued a "stop-work order" to a major shipyard in Norfolk following a blaze aboard an amphibious assault ship, the second fire to hit a warship in San Diego this week.
The fire aboard USS Kearsarge, which was said to have been caused by a spark from welding nearby, was extinguished Friday by a fire watch, a sailor assigned to put out large blazes on a ship or on is tracks.
In response, the Navy issued the "stop-work order" for all ships in maintenance at General Dynamics NASSCO shipyard to ensure compliance with safety protocols, Naval Sea Systems Command spokesman Rory O'Connor told Defense News on Saturday.
The incident came as General Dynamics NASSCO was already reviewing its safety protocols, according to Anthony Paolino, a spokesman for the company.
Paolino said that NASSCO would fully support the Navy's measure in the wake of this week's massive blaze and explosion aboard Bonhomme Richard, another San Diego-based amphibious assault ship.
The explosive blaze, which heavily damaged the warship, was believed to have been finally extinguished on Thursday, following a four-day costly and highly hazardous firefighting effort.
Firefighting crews from a dozen San Diego-based ships and more than 400 sailors assisted federal firefighters to combat the conflagration.
The origin of the fire and the extent of the damage are still unknown and Navy officials have not said whether the ship will be repaired.
The blaze on the 844-foot vessel broke out last Sunday, sending pungent plumes of smoke into the San Diego skies for days.
The US Navy said the ship had been docked for scheduled maintenance between deployments.
Scores of American sailors and civilians were injured in the massive fire and a large explosion that followed it.