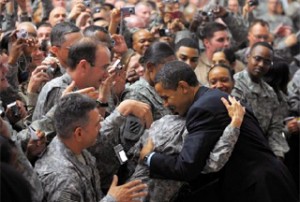 A top commander of US and NATO forces in Afghanistan says that Washington is not planning an early exit from Afghanistan.
On Thursday, General Stanley McChrystal told Afghan ministers and Parliamentarians in Kabul that the US presence in the country was long-term.
McChrystal said that the focus of Obama's new strategy was "to provide an opportunity for the Afghan people to build enough capacity to provide security themselves."
More than eight years after the beginning of the US invasion of the country, the US president has announced his intention to deploy 33,000 more troops to Afghanistan to end the conflict there, adding that he would start a partial withdrawal in July 2011.
NATO Secretary General Anders Fogh Rasmussen says the alliance will send thousands of additional troops to the conflict-ridden country in order to support and expedite Obama's new Afghan strategy.
Although nearly 110,000 foreign troops are present in Afghanistan, they have not been able to establish stability in the country.
The developments came after US Defense Secretary Robert Gates said plans to start bringing soldiers back from Afghanistan in 18 months might slip and that no deadlines can be set.
"Quite frankly, I detest the phrase exit strategy," Gates told a senate committee, promising "a narrow focus" on routing al-Qaeda with "observable progress on clear objectives."
"What is essential — for our national security — is that we have two long-term partners in Afghanistan and Pakistan," he said.
This is while a new poll shows that the majority of the US public disapprove of Obama's handling of the war in Afghanistan, with 40 percent saying that the number of US troop in the country should be decreased.
US wars in Iraq and Afghanistan have cost 768.8 billion dollars by now and by the end of this fiscal year (October 2010) the price tag will approach one trillion.
Aside from the huge cost, the controversial wars have inflicted a high human death toll mostly on the civilian population of Iraq and Afghanistan.