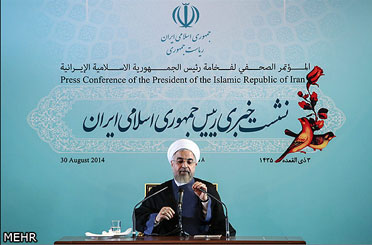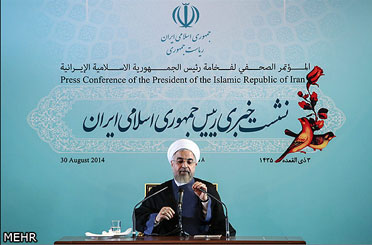 Iranian President Rouhani held a press conference on the occasion of Government Week.
President Rouhani came among journalists on Saturday afternoon to answer their questions mostly regarding foreign policy and economics.
At the beginning of the presser, Rouhani pointed to the economic situation and emphasized that the government is doing its best to tame the inflation rate. He said that recession will be completely controlled by the end of Iranian year (March 21, 2015) and "inflation rate will be decreased to single digit by next two years."
On the situation in the region, Rouhani asserted that Iran works on the basis of his WAVE (World Against Violence and Extremism) proposal raised and approved in previous summit of UN General Assembly.
He compared Israel's recent atrocities and to ISIL terrorists in Syria and Iraq and slammed the West for hypocrisy in their fight against terrorism. "Attacking terrorists on the pretext of protecting a country's own citizens or embassy is not a true reason to fight terrorists."
"US and Western kept silent and supported ISIL during three years of terrorists fighting against Syria, but now they claim fight against terrorism in the region."
Rouhani asserted that terrorism is a global issue and Iran welcomes and cooperates with any 'real' fight against terrorism in the region. Meanwhile he rejected any plan to cooperate with US in fighting terrorists in the region.
In response to questions about fresh US sanctions against Iran issued by Treasury Department, Rouhani strongly condemned the act and called US illegal sanctions 'crime against humanity.'
He dubbed recent sanctions contradictory to 'soul of negotiations' and expressed hope it wouldn't impact further talks.
"Iran continues to talks till an agreement is made," said Rouhani and went on saying that "if an agreement is not reached, sanctions cannot remain like before."
Answering a question on possibility of nuclear talks in presidential level, Rouhani rejected the possibility and reaffirmed that negotiation team is doing its job properly. "Iran negotiators enjoy support from Leader and the nation."