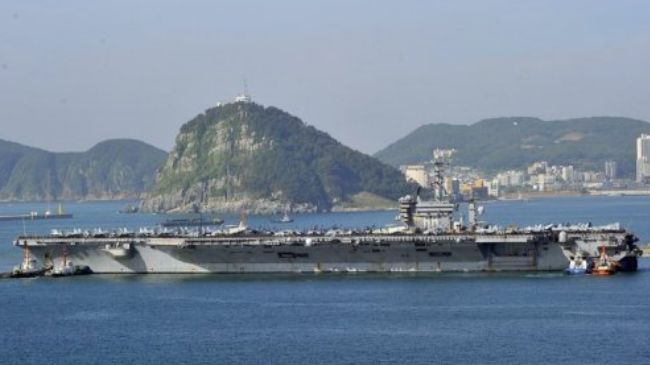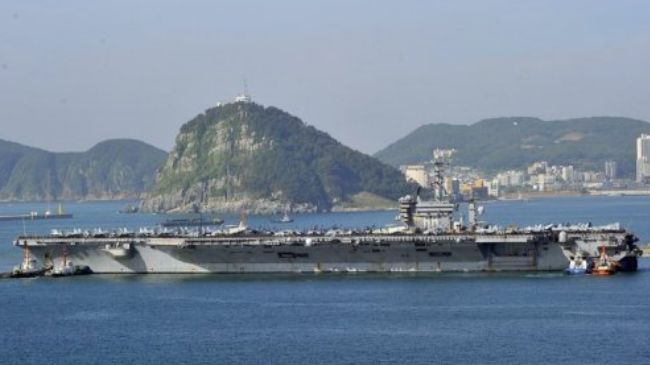 A US naval strike group led by the nuclear-powered USS Nimitz aircraft carrier has arrived off South Korea for drills, following the two allies' controversial joint military exercises that provoked tensions on the Korean Peninsula.
The Nimitz Strike Group that contains 64 aircraft as well as cruisers and destroyers arrived at the southern port of Busan on Saturday.
The group's commander, Rear Admiral Mike S. White, told journalists, "I believe it's critically important that we maintain our inter-operability with our partners like the Republic of Korea (South Korea)."
He added that the 97,000-ton warship was "on a scheduled deployment" to the Asian region.
According to the South Korean Defence Ministry, Nimitz will take part in joint search-and-rescue operations and "sea maneuvering" around the Korean Peninsula.
On April 30, the US and South Korea ended their two-month-long military maneuvers. The annual "Foal Eagle" air, ground and naval exercises had kicked off on March 1 with the participation of more than 10,000 US troops and a far higher number of South Korean military forces.
The Korean Peninsula has been locked in a cycle of escalating military rhetoric following the participation of nuclear-capable US B-52 and B-2 stealth bombers in the joint drills.
The move by the US prompted North Korea to step up its war rhetoric, authorizing its army to launch 'preemptive nuclear strikes' on the United States.
Pyongyang said its military should be prepared to attack "all US military bases in the Asia-Pacific region, including the US mainland, Hawaii, and Guam [Island]."
On March 30, North Korea declared that it was in a "state of war" with South Korea. Pyongyang warned that if Washington and Seoul launched a preemptive attack, the conflict would "not be limited to a local war, but develop into an all-out war, a nuclear war."