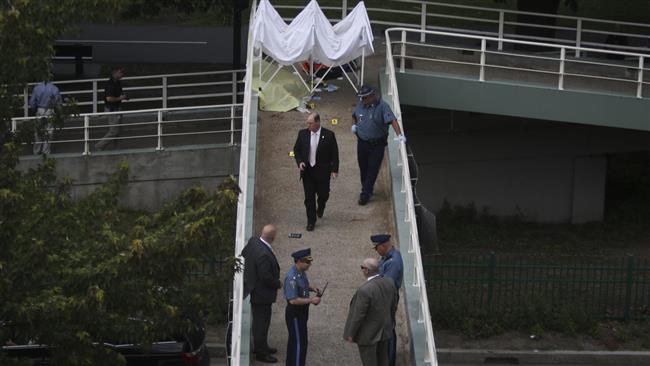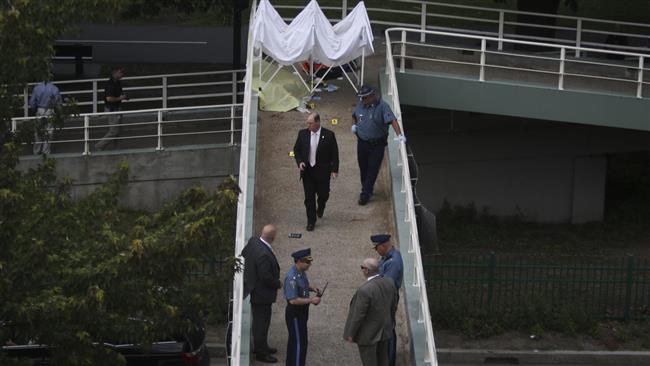 A Massachusetts State Police trooper has shot and killed a man who allegedly made threats and refused to drop a knife near Boston University, officials said.
The man, who was shot on a footbridge over Storrow Drive on Friday afternoon, was apparently unnerving passersby in the area, according to officials and witnesses.
Investigators have identified the man as Santos Laboy, 45, of Somerville who was a suspect wanted for leaving lewd photos under the door of a business on the Beacon Street.
After 2:00 pm, officers spotted the man who matched the description of a suspect of Roxbury District Court with outstanding warrants, said State Police Colonel Timothy Alben.
The suspect ran away before police could approach him, Alben said, adding he ran onto Storrow Drive at one point.
During the pursuit he appeared to have "a knife" he was "waving it about," he noted.
He ran toward the footbridge where he encountered the uninformed trooper who came to assist the other officers.
They began talking and the trooper asked the suspect to drop his gun, but he refused and instead made "threatening gestures."
"There were shots fired at that point," Alben said which led to the death of Laboy.
"The guy was on one side of the bridge, the cop was on the other side of the bridge, and I just saw the cop shooting him four times," a witness told WCVB.
In a similar incident on Thursday, a US police officer in New York City fatally shot a man who allegedly pulled a knife on him.
The incident happened near an elevated Brooklyn subway station, where the 58-year-old man attacked the officer with a knife, slashing him at the base of his neck on his collarbone.
Also on Sunday, an American Highway Patrol trooper, who had been shot in Florida by a gunman, shot back killing the gunman near Cocoa, which is about 45 miles southeast of Orlando.