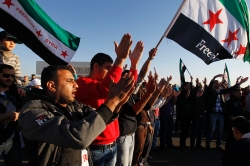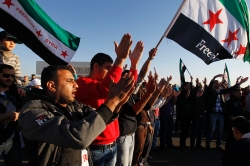 The United States is playing a "cynical game" to keep the Middle East in chaos by arming and training militants in Syria, says analyst Lawrence Davidson.
Davidson made the remarks in an interview with Press TV on Sunday when asked about a Pentagon plan to deploy about 1,000 troops to arm and train the Syrian militants to fight against the ISIL terrorist group.
Davidson said "I think it's a very dangerous kind of move on the part of the United States, largely because our intelligence isn't really sufficient to tell us what the end product of this aid would be".
"Either the United States in this effort is ignorant and just making the same mistake twice, the same mistake made in Afghanistan, or they are doing it to sow chaos, to keep the Syrian and Iraqi situation in turmoil," said Davidson, a professor of history at West Chester University.
"This would be to the advantage of Israel certainly," he added.
He went on to say that "it's one of those two scenarios, either ignorance and so we're making the same mistake twice, or playing a very cynical game and essentially sowing chaos and just keeping the area in turmoil".
Pentagon training program, which is expected to begin in early spring, will also include hundreds of US support personnel who will be operating at sites in Turkey, Saudi Arabia and Qatar.
Critics argue that the Obama administration's plan to "train and equip" what it calls moderate Syrian militants into a proxy ground force against ISIL is foolhardy, because the US could end up arming terrorists if alliances shift in the future.