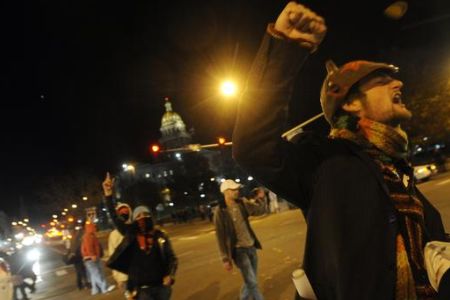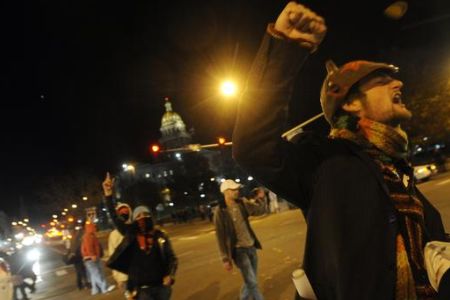 Police have arrested more anti-corporatism protesters and resorted to firing tear gas to disperse "Occupy" demonstrators across the US.
In Colorado, riot police broke out encampments at Civic Center Park in Denver on Saturday evening, firing tear gas at the protesters and tearing down their tents, The Denver Post reported.
Seventeen protesters were arrested during the clashes after they refused to leave their camps, said spokesman for the Denver Police Department Sonny Jackson.
Elsewhere in Utah, police apprehended 19 "Occupy Salt Lake City" protesters at Pioneer Park on Saturday night.
The world-wide "Occupy" movements emerged on September 17 after people gathered in New York's financial district, Wall Street, to protest corporate greed, top-level corruption, and poverty as well as social and economic inequality in the US.
Meanwhile, the number of people who have lost their lives in different Occupy movement protests across the United States has reached four.
Despite police crackdowns and mass arrests, the Occupy movements has now spread to many major US cities as well as countries such as Australia, Britain, Germany, Italy, Spain, Ireland, and Portugal.