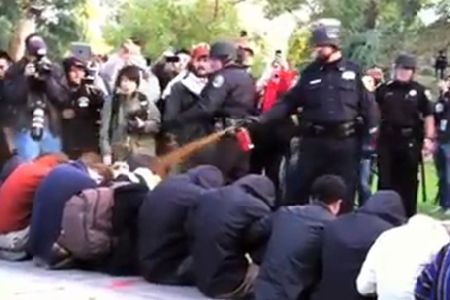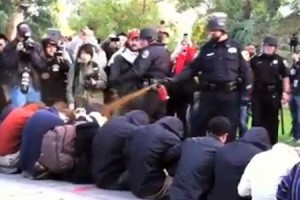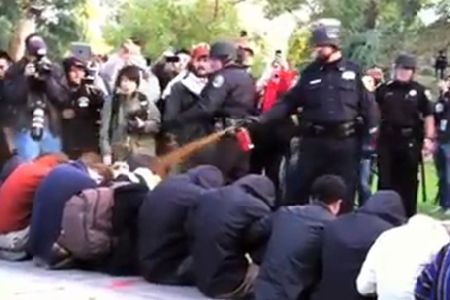 The head of the University of California (UC) at Davis is under mounting pressure to resign following the release of a video footage showing the US police pepper-spraying anti-capitalism protesters on the university campus.
On Saturday, the Faculty Association of UC Davis issued a statement calling for the resignation of University Chancellor Linda Katehi.
"The Chancellor's authorization of the use of police force to suppress the protests by students and community members speaking out on behalf of our university and public higher education generally represents a gross failure of leadership," the statement read.
Earlier on Saturday, Katehi said she would establish a taskforce of faculty members, students, and staff to review the incident.
"The use of the pepper spray as shown on the video is chilling to us all and raises many questions about how best to handle situations like this," she said in a message posted on the university's website.
On Friday, police officers violently confronted anti-corporatism protesters camping on the UC Davis campus, spraying the chemical irritant on students that were sitting on the ground, refusing to leave their encampment.
"The events of this intervention have been videotaped and widely distributed," Katehi added.
"Police came and brutalized them and tore their tents down and all that stuff. It was really scary. It felt like there was anarchy everywhere," student Hisham Alihbob told NBC's KCRA television channel.
The protest was being held in solidarity with the world-wide "Occupy" movements that began in September after a group of people rallied in New York's financial district with the motto of "Occupy Wall Street" to protest "corporate greed," top-level corruption, poverty as well as social and economic inequality in the US.
Despite massive and brutal crackdown on protesters and mass arrests by US police, particularly in New York and near the Wall Street, the Occupy movement has spread to a climbing number of major US cities as well as other major capitalist countries such as Australia, Britain, Germany, Italy, Spain, Ireland, and Portugal.