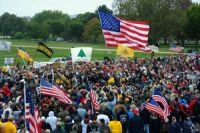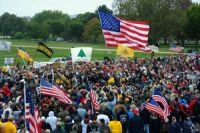 Angry protesters in Washington DC clash with riot police forces in front the White House and the Capitol over the current government shutdown.
According to NBC News, one of the rallies in the city which began at the World War II Memorial ended at the White House gates.
Frustrated with the continued shutdown and angry at the closure of Washington memorials, demonstrators tore down the barricades blocking the World War II memorial on the National Mall and took them to the White House.
Some of the protesters were carrying signs, calling for the impeachment of President Barack Obama.
Obama was reportedly in the White House when the demonstrators arrived at 1600 Pennsylvania Avenue.
Other demonstrators questioned the whole political system of their country.
Meanwhile, another protest rally was held outside the US Capitol building. Demonstrators were calling for an end to the government shutdown, saying the need to get back to work.
The U-S government has been shut down since the October first, affecting the lives of millions of people across the country.
Hundreds of thousands of government employees have been furloughed since then.