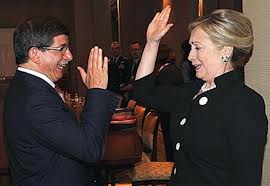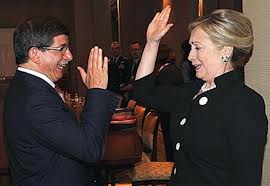 The United States reported "progress" Friday in pressing Turkey to participate in the fight against the terrorist group operating in Iraq and Syria, noting a pledge from Ankara to train and equip the so-called "moderate" Syrian militants.
The head of the US-led coalition, retired general John Allen, and US pointman on Iraq, Brett McGurk, completed a two-day visit in Turkey to press the NATO ally to engage militarily against the Takfiri group that has taken over a wide swath of Syria and Iraq.
US and Turkish flagsWashington had been pressing Ankara over its reticence to commit its well-equipped and well-trained forces in the fight against the militants.
The battle for the Syrian Kurdish town of Kobani, just across the border with Turkey, has caused fears the city may soon fall into the militants' hands.
Asked if the Turkish-US meetings — attended by Prime Minister Ahmet Davutoglu and military officials — had led to "progress," State Department deputy spokeswoman Marie Harf said yes.
"Turkey has agreed to support, train and equip efforts for the moderate Syrian opposition," one of the main components of US strategy in Syria unveiled September 10 by US President Barack Obama.
Allen and McGurk also met with leaders of the Syrian opposition in Ankara.
Meanwhile in Washington, Hakan Fidan, head of the Turkish National Intelligence Organization, met with US Deputy Secretary of State William Burns at the State Department, a spokeswoman told AFP.
Fidan also met with Obama's top counter-terrorism advisor Lisa Monaco to "to discuss ways to deepen already close counterterrorism cooperation and to further integrate Turkey's unique capabilities into the international coalition against ISIL."
Monaco "expressed appreciation" for Turkey's support and "the importance of accelerating Turkish assistance," according to a statement from the White House.
She also "emphasized the need to more quickly build the capacity of Iraqi security forces as well as the moderate Syrian opposition."
Harf confirmed that a US military team will visit Turkey next week to meet with their Turkish military counterparts.
Washington had sent Allen and McGurk to the Turkish capital to discuss "several measures to advance the military line of effort against ISIL," the State Department said Thursday.
"Turkey is well-positioned to contribute" to the coalition, Harf had said, citing its potential to cooperate militarily, halt terrorist financing, counter the flow of foreign fighters into the region and provide humanitarian assistance.