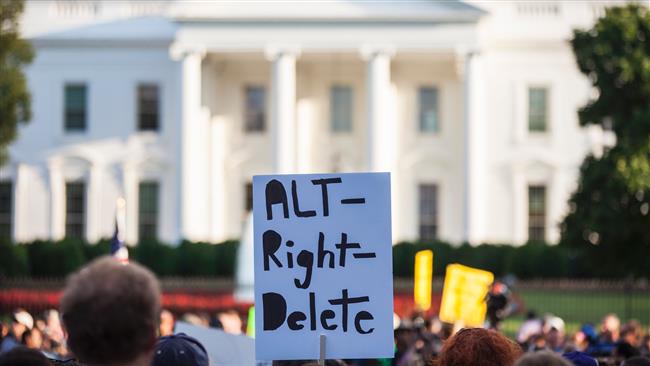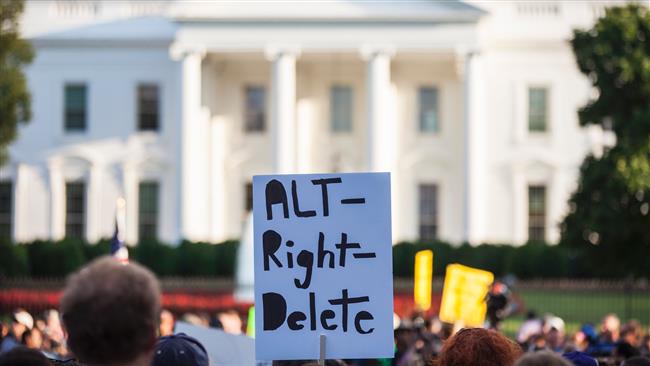 Tens of thousands of protesters have marched across the United States to condemn widespread racism in the country following a deadly white supremacist rally in Charlottesville, Virginia.
Thousands of Americans held demonstrations on Sunday in New York City and Washington, DC to protest President Donald Trump's response to the deadly violence that erupted at the white supremacist rally in Charlottesville over the weekend.
The demonstrators marched from Columbus Circle to Times Square in New York City. They held signs with messages reading, "No! The Trump/Pence Regime Must Go!" and "Make Racists Afraid Again…Smash White Supremacy!"
The protesters tried to hold a demonstration outside Trump Tower in Manhattan in New York City, but police prevented them from gathering in front of the building.
Meanwhile, thousands of people also held a rally outside the White House before marching toward the Trump International Hotel in Washington, DC. The demonstrators yelled "shame, shame" as they gathered outside the hotel owned by the billionaire president.
In Seattle, police made arrests and confiscated weapons as Trump supporters and counter-protesters converged in downtown.
Elsewhere, demonstrators denounced fascism and called for the removal of Confederate monuments, which initially prompted the violent rally by white nationalists in Charlottesville.
The Charlottesville chaos, which caused three deaths, was held to protest the removal of a Confederate statue.
President Trump came under bipartisan criticism after he failed to explicitly condemn the white nationalists for Saturday's outbreak of violence in Charlottesville.
The White House later tried to placate critics, saying Trump's vague condemnation of "many sides" included Ku Klux Klan, neo-Nazi and all extremist groups.
It said the president denounced all forms of violence, bigotry and hatred.
"The president said very strongly in his statement yesterday that he condemns all forms of violence, bigotry, and hatred," the White House clarified on Sunday. "He called for national unity and bringing all Americans together."
Trump said on Saturday during an event in Bedminster, New Jersey, that he was not responsible for the crime as similar attacks had already taken place under his predecessors.
"It's been going on for a long time in our country. Not Donald Trump. Not [former President] Barack Obama. This has been going on for a long, long time," he said, before highlighting his accomplishments.
But Republicans and Democrats have called for a straightforward condemnation from Trump, urging him to denounce the car incident as a terror attack by white supremacists.