Africa
Latin America
World News
US puppet Bolivian regime issues arrest warrant for ex-president Morales
The Bolivian regime has ordered the arrest of former president Evo Morales, who has been in exile since his forced resignation last month, after the interim government accused him of sedition and terrorism.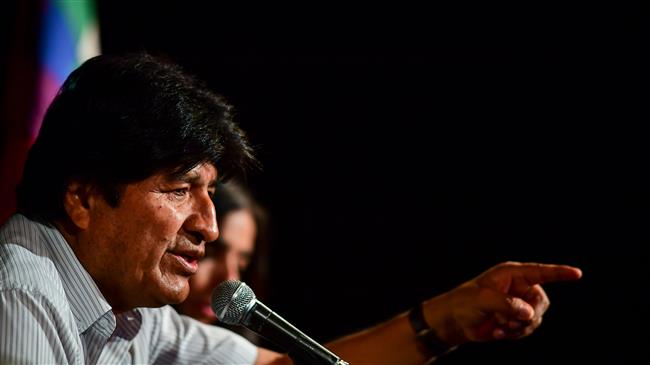 The Public Prosecutor's Office on Wednesday signed a warrant for police to detain the 60-year-old former president, who first flew to Mexico under a refugee status and is now based in Argentina.
Arturo Murillo, Bolivia's interior minister, recently brought up charges against Morales and accused him of promoting violent clashes that led to 35 deaths during disturbances before and after he left office in November.
Bolivia's first indigenous president denounced the arrest warrant issued against him by the interim government of President Jeanine Anez as "illegal" and said the move "doesn't scare" him.
"After 14 years of our revolution, the 'best gift' that I've received from the de facto government is the unjust, illegal and unconstitutional arrest warrant," Morales tweeted after the warrant was announced. "It doesn't scare me, as long as I have life, I will continue with more force in the political and ideological fight for a free and sovereign Bolivia."
The socialist leader, who resigned in November under pressure from the military, has repeatedly denied the charges against him and censured the events leading to his resignation as a coup.
Coup in Bolivia aimed at exploiting country's lithium reserves: MoralesFormer Bolivian President Evo Morales has said that his forced resignation was designed to open Bolivia's lithium reserves to exploitation.
Morales, who had already been president since 2006, won his country's presidential election in October, but the Bolivian military and opposition claimed that the election had been rigged, inciting deadly street protests.
The Bolivian president — who enjoys a broad popular base both at home and in Latin America — nevertheless decided to resign and go into exile in Mexico amid threats of violence against him and with an apparent intention not to push the country toward further instability.
Last week, the ex-Bolivian president traveled to Argentina, where the new, leftist government of President Alberto Fernandez gave him refuge.
Since Morales' departure, there has been on-and-off talk of him returning and potentially reclaiming the presidency, but the 60-year-old former leader says the US is against his return and that he wouldn't seek office even if he went back.
Bolivia's exiled Morales says US opposes his returnFormer Bolivian president Evo Morales, who has traveled to Mexico since his forced resignation, says the United States opposes his return to Bolivia.
Speaking from Argentina's Buenos Aires on Tuesday, Morales pledged to back a candidate from his Movement Toward Socialism (MAS) Party in elections expected within the next few months.
"I'm convinced that we'll win the next elections. I won't be a candidate but I have a right to be in politics," Morales told reporters.
"My obligation now that I'm not a candidate, now that I'm not president, is to accompany candidates so that they can win the elections," he added.