Asia-Pacific
US Puppet Japan takes US-like economic measures against South Korea over historic row
Japan has summoned the South Korean ambassador over a wartime dispute, which is now escalating into a trade row as Tokyo started taking economic measures similar to that of the United States against China.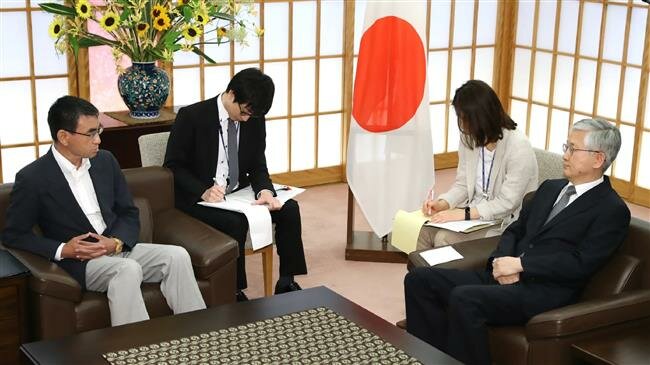 Japanese Foreign Minister, Taro Kono, summoned Seoul's representative in Tokyo, Nam Gwan-pyo on Friday, in a row over compensation for Korean wartime forced labor.
Tensions between the two countries erupted last year when a South Korean court ordered Japanese companies to compensate South Korean victims of forced labor during Japan's occupation of the country from 1910 to 1945.
Japan, however, rejects the court ruling, saying that all compensation issues have already been settled under a 1965 bilateral treaty.
Tokyo has sought third-party arbitration to resolve the dispute but Seoul rejected the request on Friday.
It has also accused Japan of weaponizing trade in response to the court ruling.
Earlier this month, Japan restricted exports of three chemicals vital to South Korea's electronics industry.
Japan, South Korea fail to end trade disputeJapan and South Korea fail to mend a dispute that could threaten global supplies of microchips and smartphone displays.
The South calls the move an example of "economic retaliation" and filed a complaint with the World Trade Organization (WTO).
Tokyo also threatened to remove South Korea from its "white list" of trustworthy countries for trade in sensitive materials by July 24.
South Korea's Trade Ministry called on Tokyo to engage upon serious talks by next week regarding Tokyo's "tighter" export restrictions. A director general at the trade ministry, Lee Ho-yeon, also warned against the move, saying it should be based on "clear evidence and facts."
There are major concerns that such a move would not only have a grave impact on the economies in both countries, but also the global supply chain," Lee said.

Diplomats exchange testy remarks
Japan foreign minister, Kono, met ambassador Nam in Tokyo, saying that Seoul must take swift action to correct the ruling, which Tokyo sees as "improper."
"What the South Korean government is doing now is equivalent to subverting the post-World War Two international order," Kono said.
The United States — a close ally to the both governments — said publicly that it has no plans to mediate between Seoul and Tokyo. It has called on them to "sit down and talk."
Analysts say Japan's economic measures against the South are reminiscent of those of Washington's against Chinese technology firm Huawei.
China's Huawei hits back after US blacklistingChina's Huawei slams the US president for signing an executive order banning the firm from buying and selling technology in the US.
US President, Donald Trump, blocked American companies from doing business with Huawei in May, citing national security concerns.
Tokyo has also cited security concerns over the measures against South Korean businesses.
It claimed that some supplies may have ended up in North Korea, which is under US sanctions over its nuclear program.
Seoul, however, disputes the claim saying it has enforced trade restrictions on sensitive materials and on North Korea.