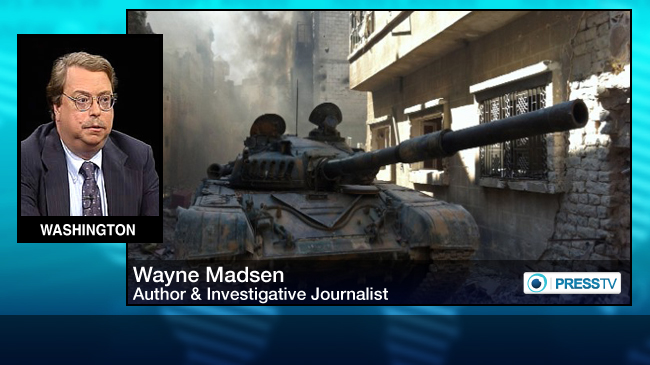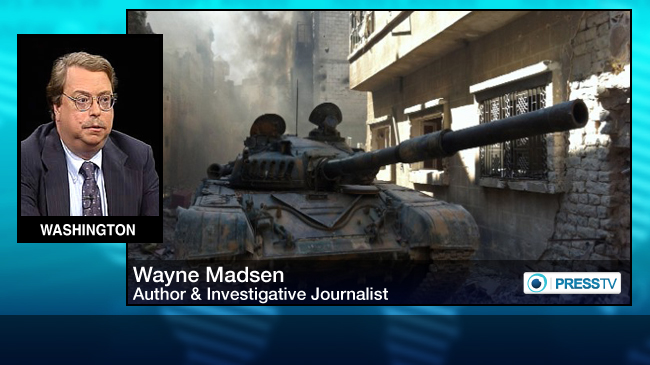 An alliance of "the Saudis, al-Qaeda, US, UK, France, Germany, and the Israelis" is shaping up in Syria, says Wayne Madsen, an American investigative journalist, as the war rhetoric against Syria is stepping up from the United States.
Similar alliances had previously been seen in a number of countries like Libya, Madsen said by phone on Monday.
Washington and its allies are preparing for a potential military strike on Syria following claims by Syria's foreign-backed opposition on Wednesday that the Syrian government used chemical weapons on militant strongholds in the suburbs of capital Damascus.
The Syrian government and the army categorically rejected the allegation, saying the militants carried out the attack.
"[It] was obviously a false flag attack used to blame on [Syrian President Bashar al-]Assad for a preemptive strike on the Syrian government targets which apparently is in the final stages right now," said Madsen.
"This is a typical neo-conservative playbook. One Russian Member of Parliament said that Barack Obama is a 'clone' of George W. Bush, and certainly when you look at the policies it appears that is the case. At least when it comes to the political and military polices, there is not much difference between the two."
Obama met with his national security team at the White House early on Saturday to discuss reports of the alleged chemical attack in Syria and elaborate on a response.
On Monday, Secretary of State John Kerry accused the Syrian government of using chemical weapons against civilians.
The Obama administration dismissed Damascus' offer to allow UN inspectors to visit the site of the alleged chemical attack as "too late."
As the US is preparing to strike Syria, a new poll conducted by Reuters/Ipsos has found that about 60 percent of Americans believe the US should not get militarily involved in the Syrian conflict, as opposed to only nine percent who said Washington should act.
Former US Secretary of State Colin Powell also urged Washington to stay away from the conflict in Syria and not take any sides.
While he acknowledged Sunday on CBS News that he had "no affection" for Syrian President Bashar al-Assad, Powell said Syria's foreign-backed opposition forces do not seem to be much of a choice for Washington.