Iran
Middle East
North America
US ready to 're-engage' with parties to Iran nuclear deal: Liar Biden
US President Joe Biden says America stands ready to "re-engage" with the group of countries that are party to a 2015 nuclear deal with Iran, less than three years after his predecessor, Donald Trump, pulled Washington out of the multilateral deal.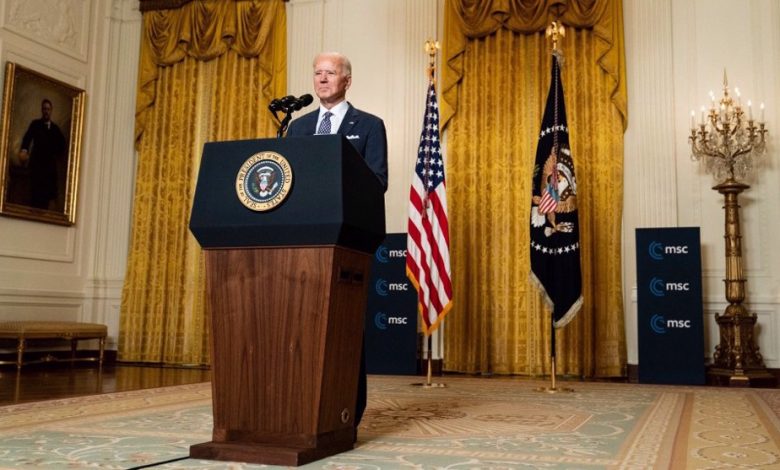 Giving a speech via video-link to the Munich Security Conference on Friday, Biden said his administration was "prepared to re-engage in negotiations" within the "P5+1" of countries, which initially negotiated the nuclear deal with Iran — namely France, Britain, Germany, the US, Russia and China.
Biden was merely repeating his administration's position, announced by his officials a day earlier, that the United States was prepared to join the Europeans in the diplomatic process with Iran on reviving the nuclear deal, stopping short of giving a more detailed explanation of America's plans regarding the accord — formally called the Joint Comprehensive Plan of Action (JCPOA).
The agreement's future has been in doubt since May 2018, when Trump withdrew his country out of the JCPOA, which he called the "worst deal ever," and called for new negotiations for a "better" deal with Iran, which would address Washington's intrusive demands from the Islamic Republic, including its national defense program and its influential regional role.
Succumbing to Washington's pressure, the European co-signatories, in turn, failed to fulfill their contractual commitments to Tehran, including confronting the harsh economic sanctions that the US restored on Iran after abandoning the UN-endorsed Iran deal.
That prompted Tehran a year later to begin a set of counter-measures in several phases based on the legal mechanisms stipulated in Articles 26 and 36 of the JCPOA.
Biden has pledged to return the US to the JCPOA, but his administration has conditioned a return to the nuclear deal on Tehran's resumption of the commitments it has suspended under the JCPOA.
Tehran has, however, refused to return to full compliance with the JCPOA while the US sanctions are still in place. Iran wants Washington to lift its unilateral bans practically and verifiably before the country reverses the steps it has taken away from the accord.
In what appeared to be a mere symbolic gesture, the Biden administration on Thursday backed away from an already abortive attempt by the Trump administration in September 2020 to restore United Nations sanctions on Iran, in disregard of the condition set by Tehran for the reversal of its retaliatory measures.
In response, Iranian Foreign Minister Mohammad Javad Zarif reminded the US of Iran's condition in a tweet.
"US unconditionally & effectively lift all sanctions imposed, re-imposed or re-labeled by Trump," Zarif said. "We will then immediately reverse all remedial measures."
Foreign Ministry spokesman Saeed Khatibzadeh also reacted to Washington's mere "gestures" and called for an effective removal of the sanctions.
"Reminder: Because of US withdrawal from JCPOA, there is NO P5+1. It is now ONLY Iran and P4+1," he tweeted on Friday morning.
Further in the speech, Biden reiterated Washington's baseless claims against Iran, saying the US and its allies should work together and address what he claimed to be the Islamic Republic's "destabilizing" activities in the Middle East region.
"We will work with our European and other partners as we proceed," the American president added.
Biden attacks Russia, China
Elsewhere, Biden delivered a blistering attack on Russian President Vladimir Putin for what he called Moscow's aggressive behavior in Europe and cyberspace.
Urging Western unity, Biden claimed, "Putin seeks to weaken the European project and our NATO alliance. He wants to undermine the transatlantic unity and its resolve because it's so much easier for the Kremlin to bully and threaten individual states than it is to negotiate with a strong and closely-aligned transatlantic community."
Biden similarly took aimed at China for what he described at the country's economic abuses and anti-democratic practices.
The United States and other "democratic" nations, he said, need to shape the "rules of the road" on cybersecurity and tech issues, particularly as part of attempts to confront Washington's main rivals, China and Russia.
On US partnership with Europe
In addition, Biden laid an emphasis on the US's partnership with Europe, which had suffered a blow under his predecessor, saying traditional allies of America should once again have confidence in Washington's leadership.
"The United States is determined, determined to reengage with Europe, to consult with you, earn back our position of trusted leadership," he said.
Biden, who had earlier spoke to leaders from the group Seven industrial countries, said his administration was again stressing alliance building, in contrast to Trump's isolationist policies and abrasive treatment of US partners.
"America is back, the transatlantic alliance is back, and we are not looking backward. We are looking forward together," said Biden, pledging to rebuild trust with the European allies by working on challenges like COVID-19, climate change and the Westerners views as threats posed by Russia and China.
US back in Paris climate deal
Commenting on Washington's return to the Paris climate deal, effective on Friday, Biden told the conference that the US could not afford to sideline the growing climate crisis again.
The deal was also abandoned by Trump, who held the false vie that ongoing global warming was a laughably mistaken take by the world's scientists.
"We can no longer delay or do the bare minimum to address climate change. This is a global existential crisis, and all of us will suffer if we fail," the US president said. "We're back."
While Friday's return is heavily symbolic, world leaders say they expect America to prove its seriousness after four years of being pretty much absent.