Awakening
Human Rights
Iran
Middle East
North America
US regime violates intl. law while expecting ordinary Americans to observe 'law, order': Iran Spokesman
Iran's Foreign Ministry spokesman says while the American regime is blatantly violating all norms of international law, its president is urging ordinary people to abide by "law and order" at a time that violent protests are sweeping through the US over police brutality and racial profiling of African Americans.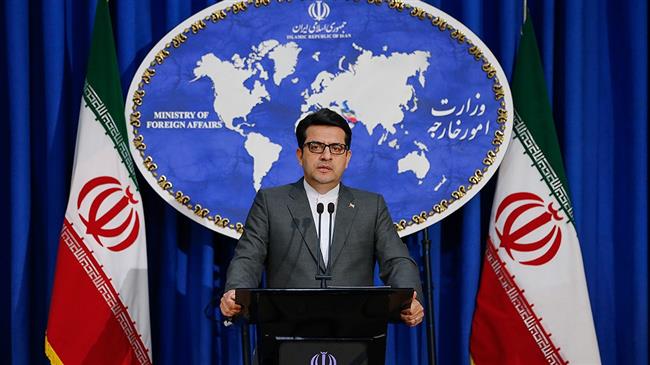 Abbas Mousavi made the remarks in a tweet on Sunday in a clear allusion to statements by US President Donald Trump in early May when he declared himself "your president of law and order" as peaceful protesters just outside the White House gates were dispersed with tear gas and flash bangs.
"My first and highest duty as president is to defend our great country and the American people," Trump said, adding, "I swore an oath to uphold the laws of our nation and that is exactly what I will do."
As he made the remarks, crowds of American protesters gathered outside the White House gates while a large convoy of military vehicles was seen driving through the White House complex and onto Pennsylvania Avenue.
"How in the world does the US regime, being addicted to the infringement of international laws and norms, expects ordinary Americans to believe the call for 'law and order'?! Mousavi tweeted.
Since entering the Oval Office in 2016, US President Trump — a self-professed negotiator —has abandoned many international pacts and treaties that previous administrations had authorized.
In May 2018, Trump unilaterally abandoned the international nuclear deal — officially known as the Joint Comprehensive Plan of Action (JCPOA) — signed between Iran, the United States, Britain, France, Germany, Russia and China, and reinstated the anti-Iran sanctions, which had been lifted by the accord.
Under Washington's pressure, the three European signatories to the JCPOA have so far failed to fulfill their contractual obligation to protect Tehran's business interests against the sanctions.
Just days after assuming office, Trump delivered on a campaign promise and signed an executive order to withdraw the United States from the negotiating process of the Trans-Pacific Partnership (TPP), a trade agreement between 12 Pacific Rim countries that took seven years to negotiate and was signed by then-President Barack Obama in his second term.
On June 1, 2017, Trump announced that he is pulling the United States out of the landmark Paris Agreement that aims to combat climate change, asserting US withdrawal "represents a reassertion of American sovereignty."
Meanwhile, protests have been held across the US in response to the killing by a police officer of an unarmed African American, George Floyd, who died after the officer knelt on his neck for nearly nine minutes in Minneapolis on May 25.
His death reignited long-felt anger over police killings of African Americans and unleashed a nationwide wave of civil unrest unlike any seen in the United States since Martin Luther King Jr's 1968 assassination.
It has also posed Donald Trump with one of the greatest challenges of his tumultuous presidency. Trump called on states to crack down on the protests and warned he could use military forces if states did not quell protests.
Millions of demonstrators worldwide have also called for an end to US police brutality and racial profiling against African Americans.