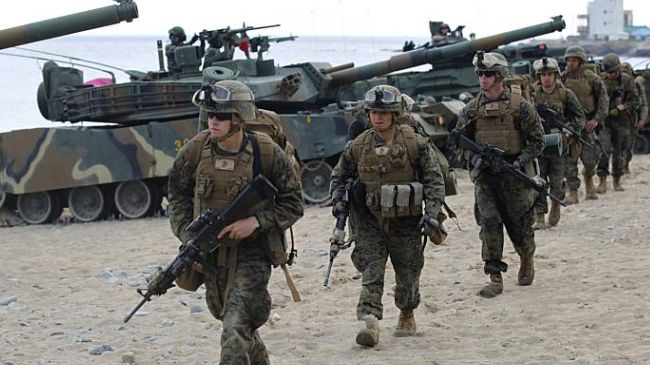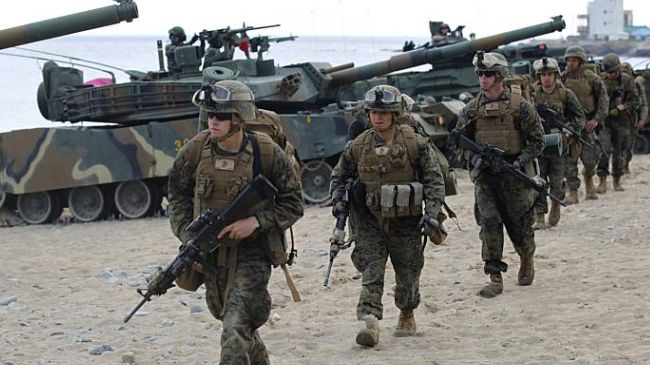 Emperialist US and South Korea will hold their joint military exercises despite harsh criticism from North Korea which has described them as a rehearsal for invasion and a prelude to war.
The allies' combined forces command said in a statement on Monday that "Key Resolve" and "Foal Eagle" exercises will be held from February 24 to April 18.
"The United Nations Command has informed the Korea n People's Army in North Korea through their Panmunjom mission about both Key Resolve and Foal Eagle exercise dates and the non-provocative nature of this training," the statement read.
A total of 12,700 US military soldiers will take part in military maneuvers, according to the statement.
This just less than a week after the US military flew a nuclear-capable B-52 bomber off the west coast of the Korean peninsula which draw angry reactions from Pyongyang.
The exercises overlap a preplanned families' reunion between North and South Korea.
North Korea has threatened to cancel the reunion which is scheduled to be held February 20-25 at the North's Mount Kumgang resort unless Washington and Seoul call the drills off.
Pyongyang also withdrew an invitation to US special envoy Robert King to visit the country and hold talks about the release of 45-year-old American missionary Kenneth Bae who is held in the country for more than a year on charges of trying to overthrow the state.
The annual drills sparked a surge in military tensions in the region last year.