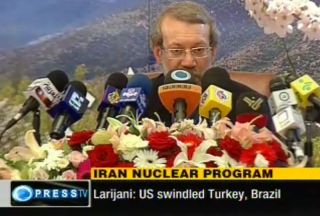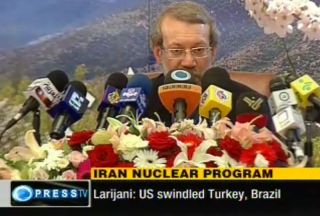 Iran's Parliament (Majlis) Speaker says stopping Tehran's support for Palestine is the US ulterior motive in imposing new sanctions against the country.
The US unilateral sanctions against Iran's oil and gas sector is just a political facade; even before these sanctions, Iran had no cooperation with American companies, Ali Larijani said in a press conference at the end of an Islamic Inter-parliamentary summit in Damascus.
It seems the US seeks an ulterior motive other than the nuclear issue by imposing more sanctions against Iran, Mehr News Agency quoted him as saying.
"We are told that Iran's approach toward Palestine is important for them [the US], and they think they can change our will by pressuring us," Larijani said, describing the US stance as a "big mistake as Iran has always supported Palestine and will continue to do so."
In response to a question regarding Iran's relations with Egypt and Saudi Arabia, the Iranian lawmaker said Tehran has always been friendly with Riyadh and respects Cairo and reiterated the need for unity between Islamic countries.
"Considering the Zionist regime's plots, countries in the Islamic world should stand beside each other."
Larijani arrived in the Syrian capital of Damascus on Tuesday to attend an Islamic Inter-parliamentary summit aimed to find a practical solution to end the suffering of Palestinians.
Israel drew worldwide condemnation when it attacked a Gaza-bound aid convoy in May, killing at least nine international activists.
Tel Aviv has also defied international calls for lifting a crippling blockade on Gaza which has been in effect since 2007.