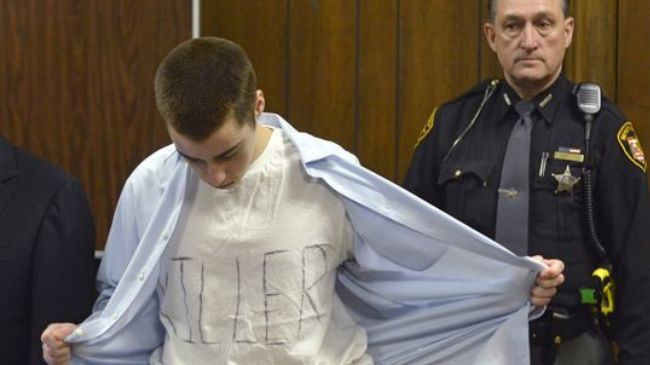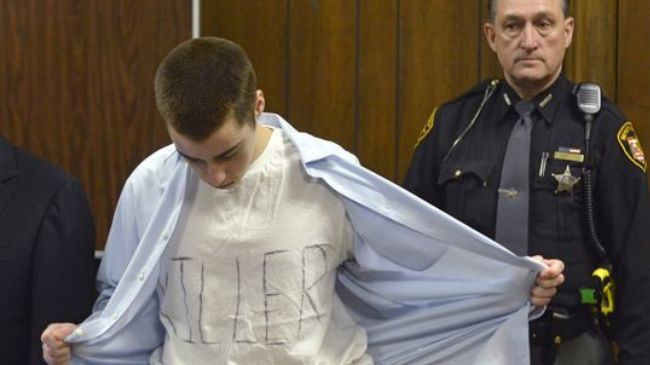 A convict who shot and killed three high school students in 2012 escaped from an Ohio prison, according to the State Highway Patrol.
T. J. Lane, 19, was one of the three prisoners who escaped from the Allen Correctional Institution in Lima some 80 miles south of Toledo at 7:45 p.m. on Thursday.
One inmate was captured shortly after, Lima police Sgt. Andy Green said, according to the Associated Press.
Lane was also captured later, while Clifford Opperud, 45, remains on the loose.
Opperud was convicted of aggravated robbery, burglary and kidnapping, and is considered dangerous by authorities.
Police had no further information on how the inmates escaped from the prison.
In 2013, when Lane was sentenced to life in prison with no parole, he wore a T-shirt in court with the word "killer" written on it, apparently aiming at families of the victims.
He pleaded guilty a year after his Feb. 27, 2012 attack at Chadron High, east of Cleveland.
Lane carried a .22-caliber pistol and a knife to the school and fired 10 shots in the cafeteria. Parmertor and Demetrius Hewlin, both 16, and Russell King Jr., 17, were killed.
Lane admitted to the shooting but said he did not know why he did it.
"It was something I chose to do," Lane said at the time.
Judge David Fuhry of Geauga County Common Pleas Court said Lane knew what he was doing and had no remorse for the "merciless rampage. … We haven't been provided a clear motive or even a murky one."