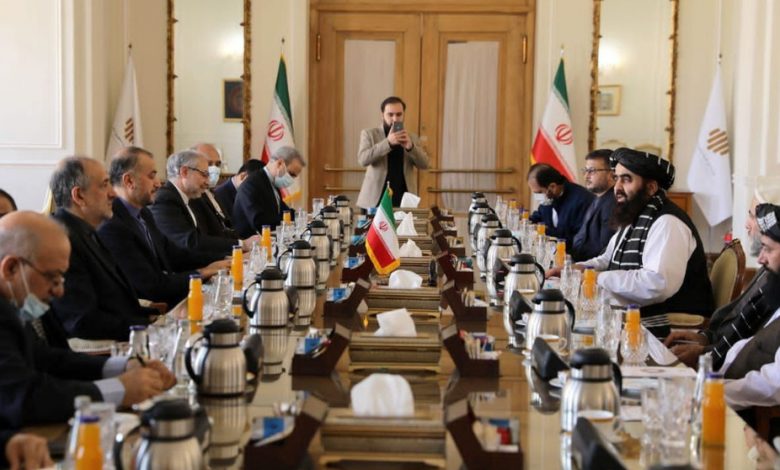 Iran's Foreign Minister Hossein Amir-Abdollahian says the United States seeks to create rifts between Afghanistan and its neighboring countries now that its 20-year occupation of the country has failed.
Amir-Abdollahian made the remarks in a Sunday meeting with the visiting Taliban acting foreign minister, Amir Khan Muttaqi, in Tehran.
Muttaqi arrived in Tehran on Saturday at the head of a high-ranking delegation to hold talks with Iranian officials in a first such trip since the group seized power.
During the meeting, Amir-Abdollahian condemned the wrong policies of the United States and its allies in Afghanistan over the past 20 years, saying one of the main policies of the US in the region has been to driving a wedge between Afghanistan and its neighbors.
"Afghanistan's funds that have been blocked by the US must be released for humanitarian reasons to help improve the economic situation of the Afghan people," the Iranian foreign minister said.
Amir-Abdollahian also welcomed remarks made by the Taliban's leaders on the formation of an inclusive government in Afghanistan.
The Taliban took control of the Afghan government in mid-August last year, in the midst of the United States' hasty, reckless withdrawal of its forces from the country. Since the takeover, Iran has repeatedly highlighted the importance of the establishment of peace and stability in Afghanistan through the formation of an inclusive government in the war-ravaged country.
Pointing to the Islamic Republic's humanitarian aid to the innocent people of Afghanistan, Amir-Abdollahian said in addition to continuing the flow of such aid, Iran will also make use of regional capacities to provide the Afghan people with more assistance to alleviate their problems.
For his part, Muttaqi appreciated Iran's hospitality to Afghan refugees in the past 43 years, emphasizing that the Islamic Republic of Iran has always stood by Afghanistan. The new Afghan government, according to the Taliban acting foreign minister, stresses that it is not against any of the neighboring countries.
The visiting Taliban delegation also enumerated the United States' acts of cruelty against the Afghan people. They said although the US left Afghanistan in a disgraceful defeat, it has continued to target the Afghan people with its policies. As a result of these policies, eighty percent of the Afghan people have fallen below the poverty line, the delegation said.
The US withdrawal from Afghanistan, twenty years after it invaded the country, was followed by Washington's imposition of cruel sanctions and cessation of humanitarian aid, leaving millions of Afghans on the verge of starvation, including women and children who are particularly at risk. The US also froze nearly $10 billion of Afghanistan's funds after the Taliban's takeover, dismissing the Taliban's call to release the funds in spite of public demonstrations by Afghans.