Economy
North America
Saudi Arabia
World News
US senators threaten to review Saudi ties as oil price war endangers US producers
A group of 13 US senators from oil producing states have threatened to take measures against Saudi Arabia for continuing a crude price war with Russia that has damaged US producers.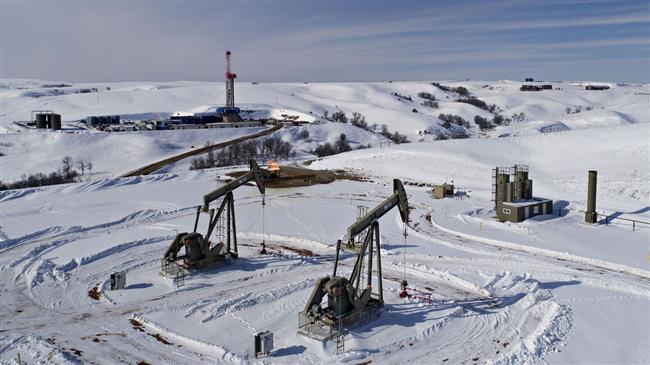 The senators called Saudi Ambassador to the US Princess Reema Bint Bandar Al Saud last month and said that they would "not only reevaluate, but take actions" regarding relations with the kingdom.
"We are going to fundamentally, not only reevaluate, but take actions that will start to undermine the long term relationship that many of us have supported," Senator Dan Sullivan of Alaska told CNN as he described the messages delivered to the Saudi envoy during the telephone conversations.
Oil prices have declined by over 59 percent due to a Saudi-Russia feud and a sharp drop in demand over the coronavirus pandemic.
Riyadh and Moscow are competing for market share by flooding the market with oil amid a global fight against the coronavirus which imposed lockdowns, curbed economic activity, grounded planes, and cut vehicle usage.
The decline in oil prices threatens heavily-leveraged American oil companies, in particular ailing shale oil companies, with bankruptcies and layoffs at the current critical time when the highly contagious disease increases unemployment in the US.
The US senators say they are ready to act against Saudi Arabia amid the oil row. They have reportedly introduced legislation to remove US forces from the kingdom while discussing sanctions if the Riyadh regime does not help find a solution to the crude crisis.
"We're not bluffing," Sullivan said. "Not even remotely."
During the call, the Saudi ambassador reportedly tried to keep it short and deliver talking points.
"I said ambassador, with all due respect, I don't want to hear any talking points from you until you hear from all, I think there's 11 or 12 on the call," Sullivan pointed out.
"At the end if you still feel the need to provide us with your talking points that is fine. But I organized this call so you could hear the anger from the voices of senators who have traditionally supported the US-Saudi relationship."
The US senators further explained to Princess Reema that losing their support would result in the kingdom losing its lifeline on Capitol Hill and anti-Saudi legislation flourishing even more.
"Texas is mad," a source who was on the call quoted Senator Ted Cruz as saying.
"The anger from the senators was unlike anything I have heard from this group," the source added.
Speaking to CNBC on March 30, Cruz said, "The Saudi kingdom is supposed to be our friend. We are a military ally. We are a diplomatic ally. You are not behaving like a friend when you are trying to destroy thousands and thousands of small businesses all across Texas and the country."
On Saturday, the same group of senators will speak with the Saudi Energy Minister Khalid al-Falih to press for a solution to the oil the global oil glut and decline in prices.
"We'll see what he says," Sullivan said. "But at this point actions are going to speak a lot of louder than words."
On Thursday, the Organization of the Petroleum Exporting Countries (OPEC), Russia and other countries reached a tentative agreement to temporarily cut production.
They agreed to cut 10 million barrels a day — about 23 percent of their production levels — in May and June to help prop up prices.
Saudi Arabia says final accord on oil production depends on MexicoMajor oil producers have reached a partial agreement on the reduction of their production to prop up prices hammered by the coronavirus pandemic but Saudi Arabia says the final accord depends on Mexico's consent to go along with the proposed cuts.
However, Mexico refused to sign up to its share of cuts, which would have been 400,000 bpd, and instead offered to cut 100,000 bpd.
On Friday, Mexico signaled that the US may be willing to make further cuts to its production in order to allow its southern neighbor to make less stringent reductions.
Separately on Friday, energy ministers from the Group of 20 major economies agreed that stabilization in the market was needed, but stopped short of discussing specific production numbers.
They only pledged in the statement that the group would work together to ensure oil "market stability."