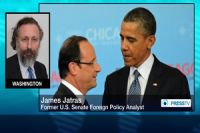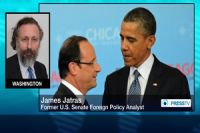 An American foreign policy analyst says the US spying activities across the globe continues because its Western allies do not object to it, although they are also victimized.
James Jatras, a former US Senate foreign policy analyst in a phone interview with Press TV on Wednesday, said: "The first reason we do it is because we can. We believe that the rules of international conduct that we demand of others, do not apply to us."
Revelations of massive spying operations by the United States have triggered condemnations across Europe and Latin America.
Germany, France and several other countries have expressed concerns about US spying activities after former intelligence contractor Edward Snowden disclosed classified information about US surveillance programs.
France's President Francois Hollande has demanded answers from his American counterpart Barack Obama about the US National Security Agency's spying on French citizens.
Mexican interior minister has also ordered a major probe into reports of US electronic spying on Mexico's current President Enrique Pena Nieto as well as his predecessor Felipe Calderon.
Meanwhile, German Chancellor Angela Merkel called US President Barack Obama on Wednesday after she learned that the NSA may have monitored her.
Jatras believes that Western countries complain about Washington's violation of international law but follow whatever they are told to by the US government.