North America
US surpasses 150,000 virus deaths as experts urge reset of approach
The United States has now recorded one death from the coronavirus every minute as the country surpassed 150,000 virus deaths, with the pandemic showing no signs of slowing down.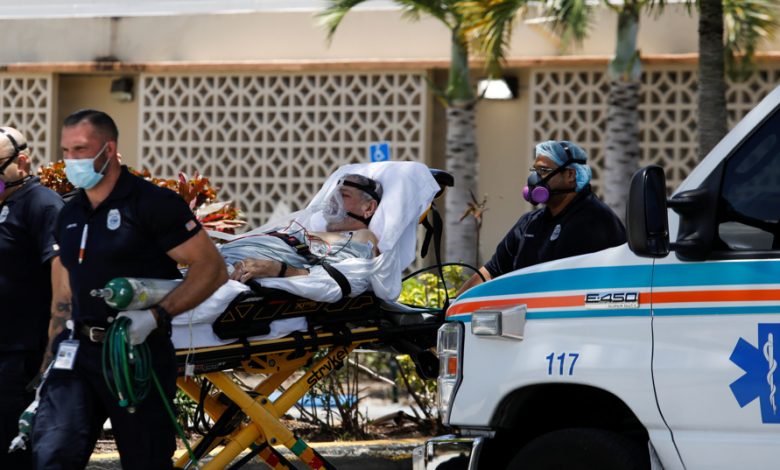 Health authorities recorded 1,461 deaths on Wednesday, the highest one-day increase since the disease was first reported on the American soil in February, according to a Reuters tally.
The nation's total death, 150,708, is now more than a fifth of the world's recorded death of 666,239.
Some US states are seeing their highest death tolls; Florida reported a record 216 COVID-19- related deaths and California registered 194 fatalities on Wednesday.
Deaths from the viral outbreak have risen for three weeks in a row in the US, while the number of new cases week-over-week recently fell for the first time since June.
Health experts warned that the death rate likely would increase, and that the nation is currently at a critical juncture, with authorities as businesses reopened and distancing rules relaxed.
'Masks aren't enough'
Anthony Fauci, director of the US National Institute of Allergy and Infectious Diseases, has called for "perfect protection" from the virus, by wearing face masks and eye protection like goggles.
"If you have goggles or an eye shield, you should use it," he said. "It's not universally recommended, but if you really want to be complete, you should probably use it."
He said that the surge in the disease is "not going to spontaneously come down," adding that those wanting more normalcy should get more disciplined by wearing masks, and limiting social gatherings
President Donald Trump, however, has rejected the idea of a federal mask order and was initially reluctant to be seen wearing one.
In a related development, Republican representative Louie Gohmert, who refused to wear a mask, tested positive for COVID-19 on Wednesday.
This has raised concern that other members of Congress may have been exposed to the virus.
So far, some 4,426,935 people have been infected with coronavirus across the US, according to Johns Hopkins University.
'A reset of US approach to pandemic'
Experts from the university said in a report, "Unlike many other countries in the world, the United States is not currently on course to get control of this epidemic."
"It is time to reset," said the report, adding that the states should stop high risk activities and stay-at-home orders should be reinstated.
Association of American Medical Colleges (AAMC) also called for a reset to the Nation's approach to COVID-19 pandemic, saying conflicting messages about how to prevent, treat, and contain the coronavirus have led to widespread confusion among the American public.
The AAMC said any effort to reset the nation's response should involve a concerted effort to educate the public. Academic medical center websites could be repositories for this expert information.
On a national level, federal, state, and local public health agencies should work to send out daily updates about the virus and local conditions in the area, the AAMC added.
'Trump was slow to recognize coronavirus threat'
The United States was slow in recognizing the coronavirus threat from Europe, Dr. Robert Redfield, the director of the US Centers for Disease Control and Prevention (CDC), admitted for the first time.
"The introduction from Europe happened before we realized what was happening," Redfield said. "By the time we realized (the) Europe threat and shut down travel to Europe, there was probably already two or three weeks of 60,000 people coming back every day from Europe," he said in an interview with ABC News.
Redfield also admitted that there have been problems with the federal response.
"Yes, there's been mistakes. And, yes, we fail." The CDC director said.
Trump claimed on Tuesday that "you can look at large portions of our country — it's corona-free."
Federal officials said in a new report that 21 states had outbreaks so severe that they were in the "red zone."
Twenty-eight states were in the "yellow zone," and only one state, Vermont, was in the "green zone."
In the meantime, Trump has also been pushing for schools reopening, while teacher unions and local officials have called for students to stay home.
The American Federation of Teachers is pushing for schools to wait to reopen classrooms until coronavirus transmission rates in a community fall below one percent and average daily test positivity rates stay below 5 percent.
According to an analysis by the New York Times, only two of the nation's 10 largest school districts could reopen under the latter threshold.
It also called on teachers to strike as a "last resort" if they didn't feel safe.