North America
Human Rights
Palestine
Technology
US tech employees want companies like Amazon and Google to sever ties to 'israel'
US tech employees and Palestinian rights activists are lobbying companies like Amazon and Google to sever their ties to the Israeli regime and accuse Facebook of "silencing" their cause of boycotting Israel in the wake of the recent Israeli aggression against Palestinians in the Gaza Strip.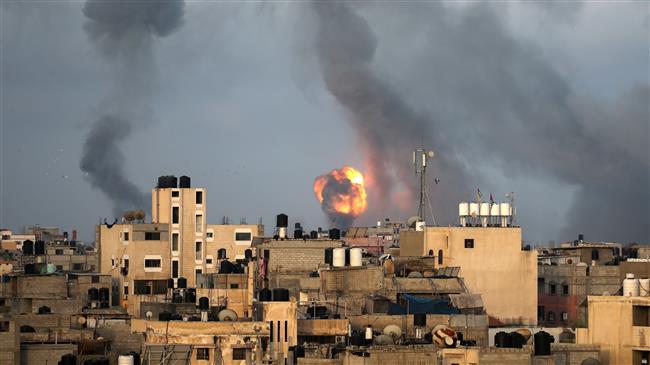 The Politico reported on Monday that Israel's invasion of Gaza is increasing pressure on Google, Amazon and Facebook to reexamine their close ties to the Tel Aviv regime.
Tech employees have also increased pressure on the corporate giants into dropping projects with the Pentagon and are strategizing with rights activists over the best way to protest against cloud contracts with the Israeli regime, the American publication reported.
This comes when progressive Democrats are pressing the US government of President Joe Biden to take a tough stand against Israeli Prime Minister Benjamin Netanyahu's regime.
Last summer, Palestinian-rights activists convinced some 800 companies to join an advertising boycott of Facebook over its controversial policies on hate speech and misinformation. The industry's critics say Silicon Valley cannot ignore the Palestinian debate.
"What's happening right now is a broader reckoning within the technology industry about its involvement in Israel," said one Google employee involved in organizing efforts at the company. "Technology companies are heavily embedded in Israel and benefit greatly from being in Israel, and it's time for tech companies to acknowledge and come to terms with, and hopefully redress, the human rights violations that they are benefiting from."
Jack Poulson, a former Google research scientist who resigned in protest three years ago over the search giant's policies, said he sees a "significant likelihood" that the companies could cancel their contracts with the Israeli regime if tech workers and civil rights activists continue to mobilize earnestly on the issue.
He revealed that Google cancelled an artificial intelligence contract with the Pentagon three years ago amid employee pressure. Microsoft also suspended work with Israeli firm AnyVision following pressure from employees, and activists in 2020.
Aggression and ceasefire
At least 254 Palestinians were killed in the Israeli regime's military strikes on the besieged Gaza strip earlier in May, before Tel Aviv was forced to beat the retreat.
The latest escalation was triggered by the Israeli regime that forced Palestinian families to vacate their homes in Sheikh Jarrah neighborhood in East Jerusalem al-Quds, followed by a violent onslaught on worshipers at the sacred al-Aqsa Mosque.
After Gaza-based resistance groups retaliated, the occupying regime started conducting strikes against civilian areas in the besieged territory, targeting high-rise residential buildings and media offices.
The regime's atrocities sparked anger and outrage across the world, with massive rallies organized to condemn the blatant aggression.
An Egyptian-brokered truce that came into force in the wee hours of May 21 ended the apartheid regime's 11-day aggression on the besieged Gaza strip.
Palestinian-rights groups such as the Boycott, Divestment, Sanctions (BDS) movement, have spent years calling on governments, businesses and artists to distance themselves from Israel.
"Israel's apartheid government relies on major tech companies to administer and control its regime of occupation, colonialism and apartheid," said Mahmoud Nawajaa, general coordinator of the Palestinian BDS National Committee, which has taken part in strategizing how to pressure the tech giants. "Big tech has an obligation to not assist apartheid and to not be complicit in human rights violations."
MarwaFatafta, the Middle East-North Africa policy manager with digital rights group Access Now, said American tech companies have shown a keen interest of "wanting to provide cloud services to governments known for their egregious human rights violations."
The BDS movement was initiated in 2005 by over 170 Palestinian organizations and later turned international. It is meant to initiate "various forms of boycott against Israel until it meets its obligations under international law" and end its occupation of Palestinian lands.
BDS, which was inspired by the South African anti-apartheid movement, has claimed several recent successes in isolating Israel.
Israel and its allies in Washington have long railed against the BDS, which calls for people and groups across the world to cut economic, cultural and academic ties to Tel Aviv.