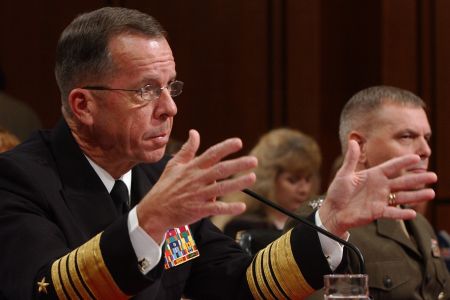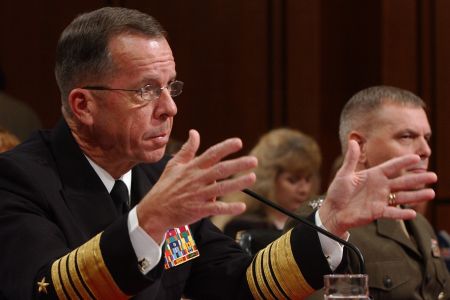 The US Joint Chiefs of Staff Chairman Admiral Mike Mullen says Washington has long been considering military options against Iran over Tehran's nuclear program.
In an interview aired on Sunday on CNN, Mullen again accused Iran of trying to build nuclear weapons and said he does not believe "for one second that Iran's nuclear activities are peaceful."
"Iran is still very much on a path to be able to develop nuclear weapons," he added.
"We've actually been thinking about military options for a significant period of time. And I've spoken with many others, that we've had options on the table… And we will continue to do that in the future," the official said.
Earlier in November, US Republican Senator Lindsey Graham also urged Washington to launch a military attack on Iran.
Mullen's remarks come as US Secretary of Defense Robert Gates has earlier this month rejected the idea of any future military action against Iran, saying no strike can stop Tehran's nuclear program and diplomacy is the best way to resolve Iran's nuclear issue.
Mullen made the remarks following Iran's announcement that the Bushehr nuclear power plant in south of the country has started to generate electricity.
Head of the Atomic Energy Organization of Iran, Ali Akbar Salehi, said on Saturday that the fueling of the Bushehr nuclear power plant is complete and expressed hope that the plant would hook up with the national grid in one or two months.
Amid a standoff over Iran's nuclear program, both Tel Aviv and Washington have repeatedly threatened Tehran with the possibility of military attack on the Islamic Republic, based on the unfounded but constantly repeated allegation that Tehran's nuclear program may consist of a covert military agenda.
While the US possesses and has used nuclear weapons in the past, Washington, in a politically-motivated move, is imposing unilateral sanctions against Iran, which does not possess nuclear weapons nor does it seek to develop such weapons.
The UN Security Council imposed a US-engineered sanctions resolution against Iran on June 9 over its nuclear program, and the United States and the European Union have imposed additional sanctions of their own.
Tehran has repeatedly declared that it will not give up the legitimate nuclear rights of the Iranian nation under Western pressure and threats.
Iran is a signatory to the Nuclear Non-Proliferation Treaty and thus has the right to enrich uranium to produce fuel.
The International Atomic Energy Agency has conducted numerous inspections of Iran's nuclear facilities but has never found any evidence showing that Iran's civilian nuclear program has been diverted to nuclear weapons production.