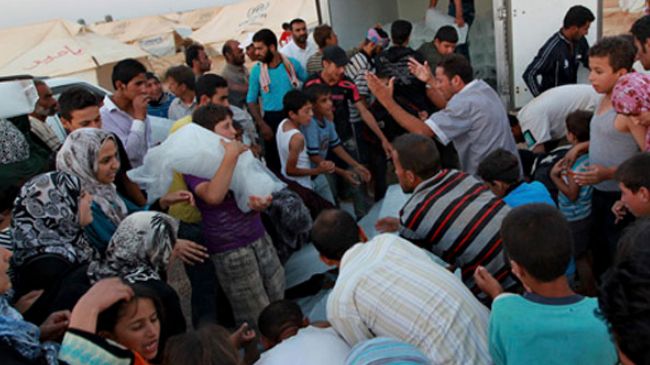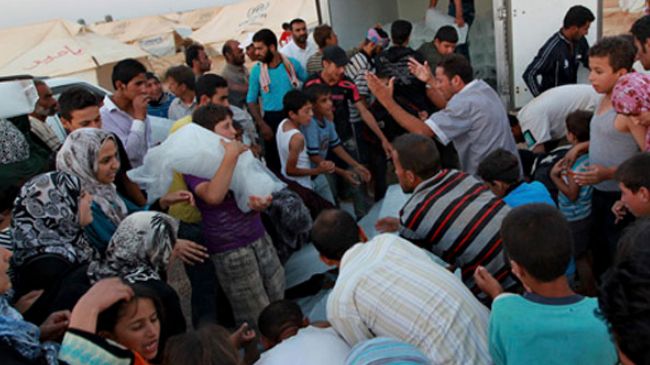 The US plans to provide an additional 100 million dollars in aid to "Syrian refugees" that have fled the nation to camps in neighboring Jordan, Turkey and Lebanon following a foreign-backed insurgency bid in the country.
US Secretary of State John Kerry plans to announce the new aid during a visit to Italy's capital of Rome on Thursday to "help support 1.4 million civilians trapped by violence within Syria's borders" in addition to those in the refugee camps, The Los Angeles Times reports on Thursday.
The additional aid, the report underlines, is part of an effort by the Obama administration to "deflect criticism that it is not doing enough to deal with a conflict that… threatens to engulf the broader Mideast region."
Citing unnamed US officials that spoke on condition of anonymity, the report further claims that the aid "is not linked" to Washington discussions over whether it should send weapons and ammunition to the foreign-backed militant gangs in Syria in a major attempt to remove President Bashar al-Assad from power.
While some pro-Israeli senior US lawmakers are pushing for a direct US military intervention in Syria to "hasten" the ouster of President Assad, Obama administration officials have expressed fears that arming the insurgents may end up boosting the power of al-Qaeda-linked terrorists known to be among the militants fighting against the Damascus government.
According to the report, the additional American funds "will be administered by United Nations agencies" involved in running the refugee camps and "will include some cash payments to 'civilians' in Syria."
It did not, however, elaborate on what kind of 'civilians' inside Syria would receive the cash payments and how.
The Syria crisis began in March 2011, and many people, including large numbers of soldiers and security personnel, have been killed in the violence.
The Syrian government says the chaos is being orchestrated from outside the country, and there are reports that a very large number of the militants are foreign nationals.