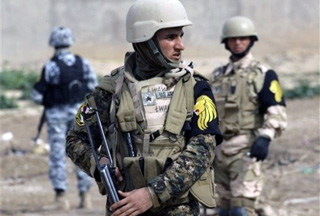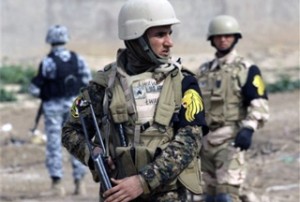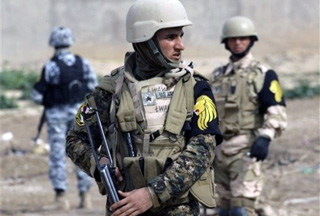 A team from the US army logistics have entered Iraq's semi-autonomous region of Kurdistan to train the Kurdish regional military, known as Peshmerga.
The group, headed by Colonel Brown, was received by Jafaar Sheikh Mustafa, Kurdistan's Peshmerga minister in the regional capital of Arbil, said Xebat, a Kurdish daily belonging to the Kurdistan Democratic Party (KDP), on Tuesday.
The forces, which, according to media reports, have been tasked with providing security for the upcoming parliamentary elections, are to be trained by American forces in the region.
"We are so optimistic to start training the local forces and to supply them with necessary logistics in Kurdistan region," Colonel Brown said upon arriving in the area.
The Peshmerga, who are considered the official security force of the Kurdish region, are known for their fierce resistance to the former Saddam Hussein government for decades.
As the country is gearing up for the March 7 parliamentary elections, the Kurdistan region has turned into an intense battle ground for major Kurdish parties.
The chairman of Iraq's Independent High Electoral Commission Faraj Al-Haidari said on Sunday that he expects a high turnout in the vote that will decide the 325 members of the Council of Representatives of Iraq.
Once elected, the new members of the parliament will elect the country's prime minister and president.
Also On Wednesday, Iraq's leading Shiite cleric Grand Ayatollah Ali Husseini al-Sistani called on voters to come to polls en masse and cast their votes without endorsing a particular party.
Grand Ayatollah Sistani's support is seen as essential in boosting turnout for the upcoming parliamentary election, which is widely viewed as a test of reconciliation in Iraq after the sectarian bloodshed that emerged following the US-led invasion of 2003.
The United States has not made it a secret that it opposes unity among different factions and groups within the Iraqi society. It has even made attempts to partition the country along religious and sectarian lines.
"Ayatollah Sistani sees it as critical that all people — men and women — who care about the future of the country and rebuilding it… participate in the election," a statement from his office said.