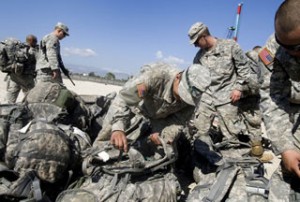 US paratroopers descending from four helicopters have taken control of Haiti's presidential palace in the capital city of Port-au-Prince.
About 50 US paratroopers from the 82nd Airborne Division arrived in Haiti's presidential palace on Tuesday aboard four helicopters, AFP correspondents reported. The palace is located in the center of the capital and surrounded by a vast refugee camp.
In the meantime, the UN Security Council voted unanimously on Tuesday to send 3,500 extra UN troops and police officers to the quake-hit Haiti in an effort to maintain order there.
UN announced that another reason for deploying extra troops to Haiti was to protect the humanitarian aid convoys there.
Many Haitians consider the huge presence of US troops in their country a blow to the nation's sovereignty. US military has a long history of involvement in Haiti to influence and control political events there.