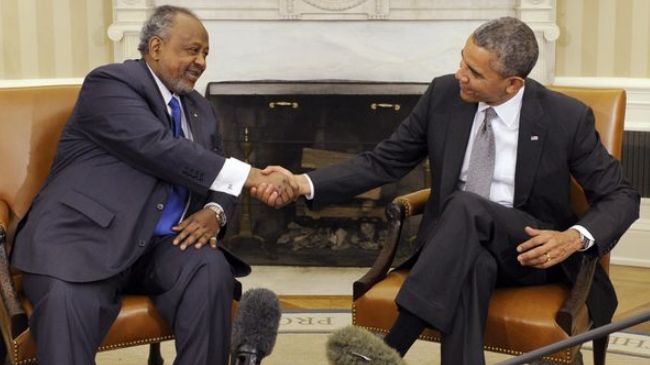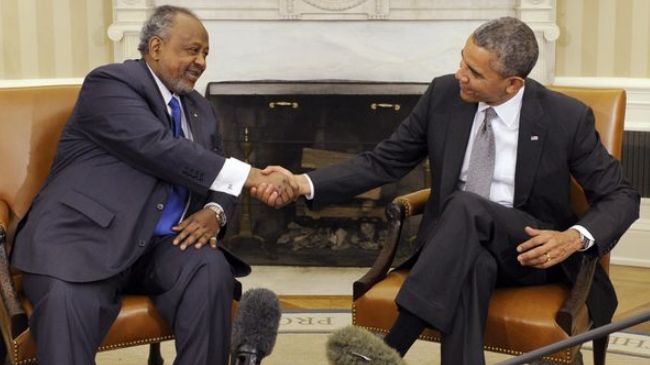 US President Barack Obama says American troops will stay at the military base of Camp Lemonnier in the East African nation of Djibouti permanently.
"This is a critical facility that we maintain in Djibouti," Obama said during a meeting with Djibouti President Ismail Omar Guelleh at the White House on Monday.
"We could not do it without the president's cooperation. We're grateful for him agreeing for a long-term presence there," he added.
The $63 million per year lease would allow the Pentagon to keep personnel and equipment at the camp for 10 more years.
The "long term lease" includes an option to extend the lease for an additional 10 years without renegotiating the terms, as well as a provision to extend for an additional 10 years beyond that at a renegotiated rate, the Associated Press reported.
The Camp Lemonnier houses F-15 fighters and there are around 4,000 US troops, civilians and contractors, including 300 special operations personnel, at the military base.
The base is also the biggest in a network of airfields in East Africa that the United States uses for drones and other surveillance planes.
Pentagon spokesman Colonel Steven Warren confirmed the deal with the African state.
"We've agreed to extend our presence at Camp Lemonnier and to increase our cooperation across a range of areas, including security, counter-terrorism, trade and energy cooperation," he said.