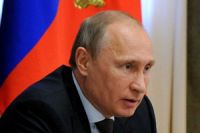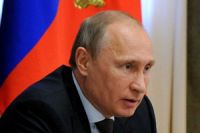 Russia's President Vladimir Putin says the world should not be dominated by one power as the United States' "unipolar" vision of the world has failed.
According to Press TV, Putin made the remarks on Friday during an economic forum in Saint Petersburg, adding that today's world people want to decide on their fate themselves.
The Russian leader also said West's imposed sanctions on Russia over the Ukraine crisis would have a boomerang effect, noting that the west's anti-Russia measures will impact Western economies.
Furthermore, Putin commented on Ukraine's upcoming presidential election on May 25, saying Moscow would respect the result of the vote.
The Russian president voiced hope that Kiev would halt its military operation against pro-Russia activists in the eastern Ukraine.
The interim Kiev government has been staging military operations in the eastern and southern regions since mid-April in a bid to root out pro-Russia protests. The military offensive has left nearly 130 people dead, according to the United Nations.