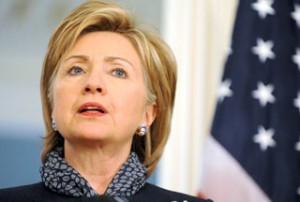 The US Secretary of State moves away from the stated position of non-interference in Iran's internal affairs, with a call for the release of political prisoners.
"We believe that it is imperative for the (Iranian) authorities to release political prisoners," Hillary Clinton said on Wednesday during a joint press conference with British Foreign Secretary David Miliband.
Clinton added the United States deplores reports from Iran that political prisoners were allegedly being abused.
"Their continuing detention and abuse of political prisoners certainly suggests that the political situation inside of Iran has not yet resolved itself," she said.
"And we are very much… supportive of the people of Iran being able to express their opinions, being able to demonstrate freely and openly and engage in peaceful protests," she added.
Massive opposition protests followed the June 12 presidential election, in which incumbent President Mahmoud Ahmadinejad won a second term in office with almost two-thirds of votes.
During the first week of post-election unrest in Iran, US President Barack Obama expressed 'deep concerns' about the treatment of protesters by the Iranian authorities. However, he said, "It was not productive, given the history of US-Iranian relations, to be seen as meddling."
Clinton was also quoted as saying that it was 'for the Iranians to determine how they resolve this internal protest concerning the outcome of the recent election'.
However, as the unrest continued, the White House appeared to have taken a more intrusive approach toward the developments in Iran, despite warnings from Tehran against foreign interference.
Tehran blames Western governments and their media outlets for the post-election violence that erupted in the country, leaving several people dead, and causing damage to public and private property.
Clinton's remarks come as the Leader of the Islamic Revolution, Ayatollah Seyyed Ali Khamenei, has already urged an investigation into the situation of the prisoners and mistakes that may have occurred during the arrests.
Iranian judicial officials say that around 250 people, including 50 political detainees, who were arrested during post-election protests, still remain in custody.