Iran
Middle East
North America
Science
Technology
US using imprisonment of top stem cell scientist as yet another anti-Iran pressure tool: Analysts
Observers believe the sanctions violation charges leveled by the US against top Iranian stem cell scientist Dr. Masoud Soleimani are a mere "excuse" to justify his illegal imprisonment, stressing that the prominent professor's incarceration is meant to exert pressure on the Islamic Republic and hamper its scientific growth.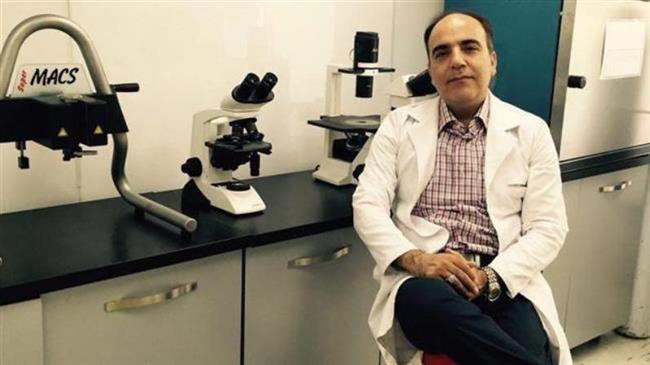 Soleimani, a professor and biomedical researcher at Tarbiat Modares University (TMU) in Tehran, was arrested by the US Federal Bureau of Investigation (FBI) upon his arrival in the US in October last year.
The stem cell researcher had been invited by the Mayo Clinic in Minnesota for leading a research program there, but he was secretly indicted by the FBI, which also canceled his research visa.
According to his Atlanta attorney, Leonard Franco, he has since been held behind bars in Atlanta without bond.
Prosecutors in Atlanta have accused him of conspiring and attempting to export vials of human growth hormone from the US to Iran without authorization, in violation of US sanctions.
According to Soleimani's lawyer, the human growth hormone is not banned in the US or Iran and was being used "exclusively for medical research," which is still considered largely exempt from US sanctions.
"Basically, what they [the US] are saying is that he was trying to exchange, or he was involved in something that is on the sanctions list, which isn't true. He had just arrived in the United States. He had not been involved in anything … The thing is that it is just an excuse. This is a prominent scientist, the top 1% in the world and his stem cell research is just unbelievable," Marzieh Hashemi, activist and Press TV anchor said in an interview on the occasion of the first anniversary of Dr. Soleimani's imprisonment.
"I think the actual situation is that we have to remember as far as stem cell research the United States is number one, Iran is number two and in general what we are seeing is pressure on Iran in general because of Islamic Republic of Iran 40 Years and also definitely trying to keep Iran from developing and from continuing to advance," she added.
Hashemi went on to say that the top Iranian scientist's arrest was "definitely pre-planned," arguing that unfortunately Mayo Clinic seems to have played a role in this arrest.
From stem cell to prison cell: Iranian scientist in US jailOn Tuesday, Press TV will air a documentary about Dr. Masoud Soleimani, on the occasion of the first anniversary of the US imprisonment of the prominent Iranian stem cell scientist.
The activist stated that it is obvious that the United States is "targeting" Iran, emphasizing that Washington has been pursuing the same policy towards the Islamic Republic for 40 years,.
"If we look at the history from 40 years ago, we would see different times that Republicans and Democrats have targeted Iran whether it was increasing sanctions or scientists actually being arrested … So I think it is an issue with the American policy towards the Islamic Republic of Iran," she noted.
Hashemi further opined that it is everyone's responsibility to stand up for the truth, stressing that people need to use social media platforms to pressure the United States to free Dr. Soleimani.