Iran
Middle East
North America
US violates legal procedures through bullying, hypocrisy, says Iranian envoy
Iran's ambassador and permanent representative to the United Nations has urged the international community to stand against unilateralism adopted by some countries such as the US, saying that Washington has violated "legal procedures" through "pure bullying and hypocrisy."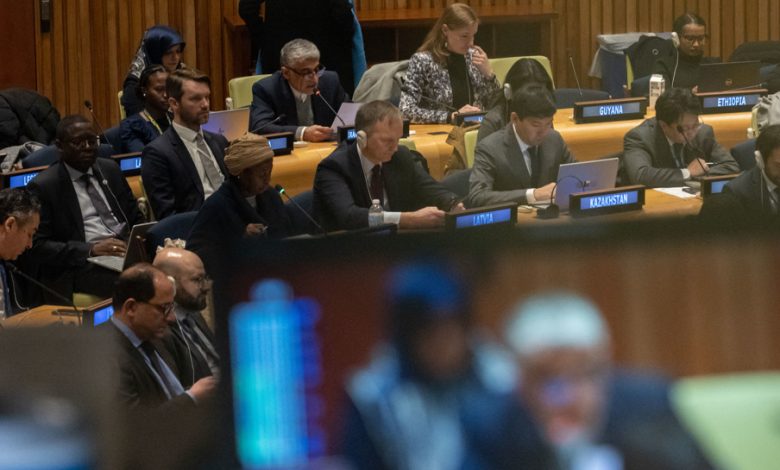 Addressing a conference of foreign ministers of the group of 77 plus China on Thursday in New York, Amir Saeed Iravani condemned Washington's illegal approach to exploiting international mechanisms.
"Multilateralism is still under severe pressure from all sides, and we saw a clear example of such danger yesterday at the ECOSOC meeting," he said, referring to Iran's illegal removal from the United Nations Commission on the Status of Women (CSW) following a draft proposal by the United States.
The 54-member UN Economic and Social Council (ECOSOC) adopted the US-drafted resolution on Wednesday to "remove with immediate effect the Islamic Republic of Iran from the Commission on the Status of Women for the remainder of its 2022-2026 term."
"Unfortunately, once again, unilateral dictatorship, pure bullying, hypocrisy, abuse of political power, intimidation and coercion, as well as the use of double standards by America and its allies, overcame multilateralism, legal procedures and the rule of law, and as a result, the legal membership of the Islamic Republic of Iran in the Women's Commission was unjustly terminated," said the diplomat.
The United States attacked "main organs and the basic values" of the United Nations by this "political adventure," he said, noting that Washington is "weakening the principles of the Charter and manipulating the procedures of the ECOSOC."
"Therefore, if we are really looking for a solution to global crises, we must stand against such unilateral and illegal actions. Otherwise, sooner or later, all UN members will face the disastrous consequences of such an approach."
On Wednesday, Iran Foreign Ministry spokesman Nasser Kan'ani slammed the anti-Iran measure as politically motivated and against the UN Charter.
He described the US' "malicious" drive against the Islamic Republic as an attempt by Washington to "impose its unilateral political demands" on the world body.
Developing countries' access to world trade
Elsewhere, the Iranian diplomat pointed to the need for free access of developing countries to the world trade system.
He also said it is important to provide the necessary resources for investment in developing economies and to facilitate the transfer of technology and technical know-how to these states, noting that the G-77 could play a major role with regard to these issues.
The Group of 77 was established on June 15, 1964, by 77 developing countries signatories of the "Joint Declaration of the Seventy-Seven Developing Countries" issued at the end of the first session of the UN Conference on Trade and Development (UNCTAD) in Geneva.
Although the members of the G-77 have increased to 134 countries, the original name was retained due to its historic significance.
The Group of 77 is the largest intergovernmental organization of developing countries in the United Nations, which provides the means for the countries of the South to articulate and promote their collective economic interests and enhance their joint negotiating capacity on all major international economic issues within the UN system, and promote South-South cooperation for development.