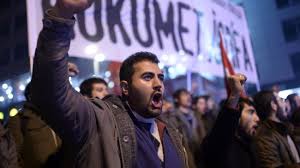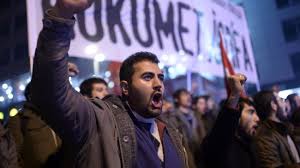 The US Department of State has expressed concern over an ongoing corruption scandal targeting the administration of Turkish Prime Minister Recep Tayyip Erdogan.
State Department spokeswoman Jen Psaki said on Thursday, "We've expressed our concerns about some of the events that are happening on the ground directly, publicly and privately."
The political crisis in Turkey broke out on December 17, 2013, after dozens of government officials and prominent businessmen close to Erdogan were arrested on graft charges.
The Turkish prime minister struck back with a wave of police sackings. His ruling Justice and Development Party (AKP) has also moved to reduce the powers of the country's top judicial body, the Supreme Council of Judges and Prosecutors, and block an investigation into the corruption scandal.
The US official also stated, "In our conversations with all stakeholders in Turkey, we continue to make clear that the United States supports the desire of the Turkish people for a legal system that meets the highest standards of fairness, timeliness and transparency."
Psaki also called for impartial investigations into the graft charges against the Turkish officials.
Reports say Ankara has so far fired an estimated 700 police officers, including top chiefs, over the corruption investigation.
Erdogan has denounced the probe as a "dirty" plot to undermine his government ahead of the local elections in March. He says outside forces have a hand in a "smear campaign" against his administration.
The scandal has also affected the country's economy with the currency, lira, at record lows against the dollar and the value of shares tumbling on the Istanbul stock exchange.