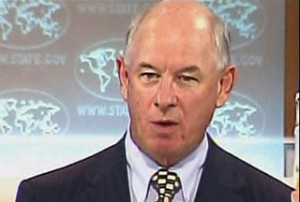 A US official has welcomed Iran's plan to hold talks with the members of the UN Security Council over a nuclear fuel swap deal, saying the United States is "still interested" in the proposal.
He made the remarks after Iranian Foreign Minister Manouchehr Mottaki said that Tehran is preparing to enter a new round of talks with all member states of the Security Council to strike a deal to buy nuclear fuel for the Tehran research reactor, which produces radioisotopes for medical treatment.
"We plan to hold direct talks on a nuclear swap with 14 member states of the UN Security Council and indirect talks with the 15th member [the United States]," Mottaki told reporters at a press conference in Tehran on Sunday.
The talks will be conducted by Iranian diplomatic missions based in the countries involved in the negotiations, he added.
"We're still interested in pursuing that offer if Iran is interested," State Department spokesman Philip Crowley said on Monday in response to Mottaki's comments.
According to a US-proposed deal, backed by the International Atomic Energy Agency, Iran would have to send most of its low-enriched uranium abroad for further processing and conversion into fuel rods for the Tehran research reactor.
Iran agreed to the IAEA-backed proposal but said it needed guarantees that the other side would deliver the fuel in a timely manner — a demand the West has so far ignored.
The US and its allies accuse Iran of seeking to manufacture nuclear weapons.
However, Iran denies the allegations and insists that as an IAEA member and a signatory to the Nuclear Non-Proliferation Treaty (NPT), it has the right to develop and acquire nuclear technology meant for peaceful purposes.
The IAEA has conducted numerous inspections of Iran's nuclear facilities and has found no evidence of the diversion of nuclear material.