Human Rights
North America
US weekly jobless claims hit 17 million as corona crisis deepens
The number of Americans seeking unemployment benefits since mid-March has hit a staggering 17 million as the coronavirus pandemic has brought the United States to a halt.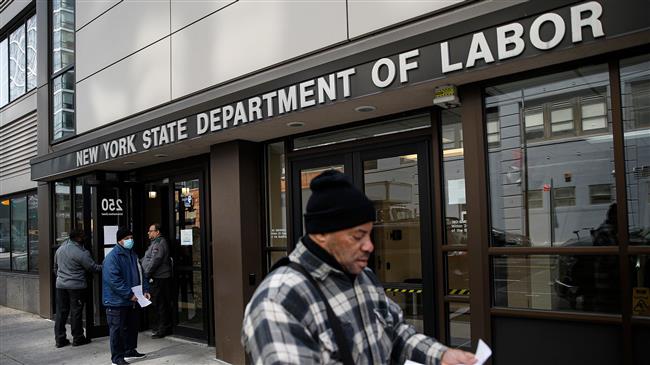 The country recorded 6.6 million claims for state unemployment benefits for the week ended April 4, according to a Reuters survey of economists.
The data brings the cumulative jobless benefits claims to nearly 17 million since the week ending March 21.
"These dismal numbers suggest another record-breaking April jobs report," said Beth Ann Bovino, chief US economist at S&P Global Ratings in New York.
Thursday's weekly jobless claims report from the Labor Department would strengthen economists' expectations of job losses of up to 20 million in April.
"America is now in recession and as it appears to deepen, the question is how long it will it take before the US recovers," Bovino noted.
Last Friday, the government reported that the economy purged 701,000 jobs in March — the most job losses since the Great Recession.
"The labor market has entered a traumatic period," said Gregory Daco, chief US economist at Oxford Economics in New York. "We foresee the unemployment rate spiking to 14% in April."
Maryland Governor Larry Hogan wrote on Twitter on Wednesday that reports continue to mount of state employment offices being overwhelmed by a deluge of applications for unemployment benefits.
He said that "we have approximately 1,000 calls coming through in every two-hour period of time," noting that "currently, federal employees and people who have worked in multiple states cannot file online."
More than 95 percent of people in the US are now under "stay-at-home" or "shelter-in-place" orders amid tough measures to contain the coronavirus contagion.
US President Donald Trump, who is seeking re-election in November, wants to reopen the US economy as soon as possible, but the coronavirus death toll needs to be on the down slope before that can happen.
He said at a White House briefing that the economy could be reopened in phases but that "it would be nice to open with a big bang."
The president's medical advisers warned him that trying to return to some sense of normalcy too early could lead to a renewed coronavirus (COVID-19) outbreak.
Trump did not say when he would like to reopen the economy, but his chief economic adviser, Larry Kudlow, said it was possible this could happen in four to eight weeks.
According to an updated model used by researchers, social distancing measures, including the closure of schools and businesses, are expected to remain in place until August.
Despite lockdown measures in place, the death toll in the United States topped 14,800 on Wednesday, with a record 1,973 deaths over a 24-hour period.
Since the outbreak started, more than 432,000 cases have been diagnosed with COVID-19 in the US. The peak of the disease, however, has yet to come, according to researchers.