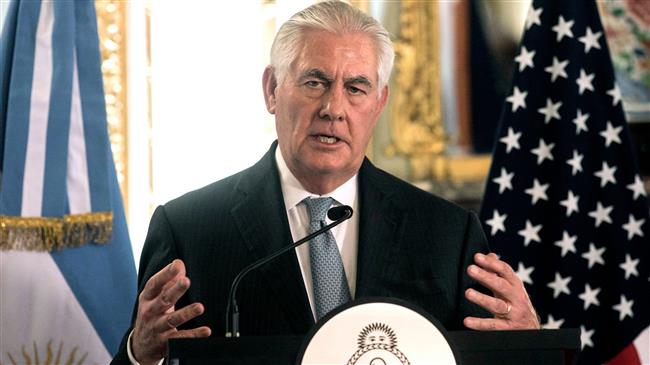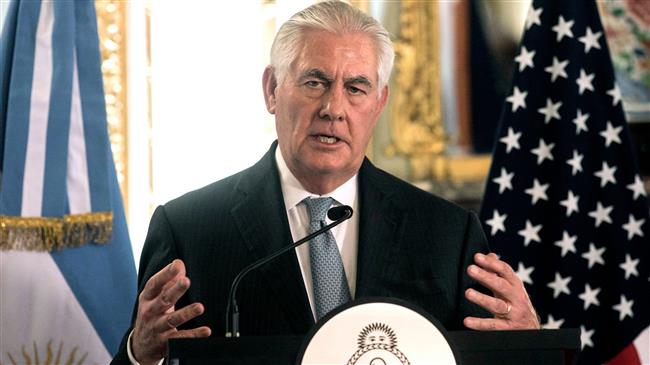 US Secretary of State Rex Tillerson says Washington is considering oil sanctions against Venezuela, in a bid to put further pressure on the government of President Nicolas Maduro.
"This is under study, it's under consideration," Tillerson said during a press briefing in the Argentinean capital Buenos Aires on Sunday night.
Venezuela, which sits atop the world's largest oil reserves, has been struggling with a worsening economic situation during the past years.
Government critics blame Maduro, who rose to power after the late Hugo Chavez in 2013, for the once-prosperous country's faltering economy and have urged him to step down.
Venezuela's all-powerful Constitutional Assembly ordered the government last month to hold early presidential election by the end of April.
Tillerson claimed Sunday that the oil bans were necessary because Venezuela's upcoming presidential election was tilted in favor of the current administration.
However, he said, the White House was studying the possible impacts the sanctions would have on ordinary people before taking action.
"One of the aspects of considering sanctioning oil is what effect would it have on the Venezuelan people? Is it a step that might bring this to an end more rapidly?" Tillerson said.
Venezuela has reportedly stopped using US dollars in its oil trade activities.
He also warned that Washington might proceed with sanctions anyway "to bring this [situation] to an end."
Tillerson, who was on a six-day trip to Argentina, Colombia, Panama, Peru, Mexico and Jamaica, said he had already discussed the situation with other countries in the region.
"We've had exchanges in Mexico City, we've had exchanges today about it, and I think the point being that all of us in the region want to see Venezuela return to its constitution," said the top US diplomat.
The US has already imposed sanctions against members of Maduro's government as well as on buying new Venezuelan debt.
US interests
Despite Tillerson's remarks, it seems that Washington's main concern about the sanctions is the way they would impact the flow of Venezuelan oil to the US.
"We are looking at options and we are looking at how to mitigate the impacts on US business interests," Tillerson said.
The Latin American country is the third largest oil provider to America. Last year, US imports of Venezuelan crude oil in the first six months stood at around totaled 655,000 barrels per day, about 7.5 percent of overall imports.
The number fell to record lows in the second half of 2017, after refineries across the US reduced dependence on crude oil in anticipation of tougher US sanctions against Venezuela.