Iran
Middle East
North America
US will ultimately have to change course in face of Iran's resistance: Rouhani
President Hassan Rouhani says the United States will ultimately be forced to change course and stop waging a hostile pressure campaign against Iran in the face of the Iranian nation's resistance.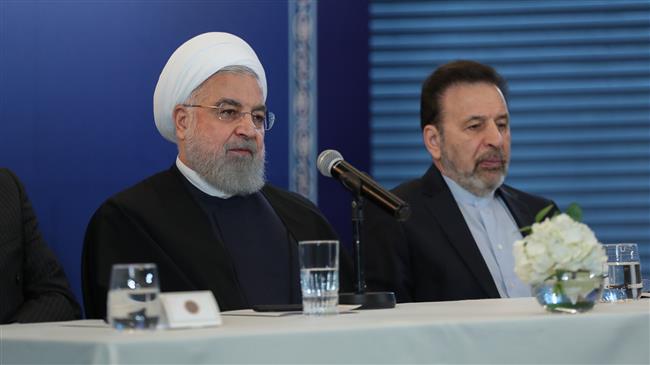 The president made the remarks during a friendly meeting in Kuala Lumpur with Iranians residing in Malaysia on Wednesday.
He is in the Southeast Asian country to attend the Kuala Lumpur Summit, which brings together leaders of Indonesia, Pakistan, Turkey, and Qatar as well as 450 Muslim intellectuals from around the world.
"The Americans have no choice but to change the path they have been treading. We will compel them to do so too through [our] resistance and perseverance," the Iranian chief executive noted.
The US has intensified its anti-Iran pressure campaign during Donald Trump's presidency under the banner of "maximum pressure." The drive saw Washington ditch a 2015 multi-party nuclear agreement with Tehran and restore the sanctions that had been relieved by the accord.
The US departure from the deal, officially known as the Joint Comprehensive Plan of Action (JCPOA), flew in the face of the accord's multilateral nature. Both the withdrawal and the returning of the sanctions flouted international law as the deal has been ratified in the form of a United Nations Security Council resolution.
Rouhani: US sanctions unsustainable, world wants ties with IranPresident Rouhani says the US pressure campaign against Iran will not be viable and that all countries seek closer ties with the Islamic Republic.
Rouhani further described the US use of sanctions as a "lose-lose approach," saying, "In my opinion, these sanctions cannot last and constitute illegal measures."
"Today, everyone knows that the US withdrawal from the JCPOA has benefited no side, not even the US itself and its friends," he stated.
The president, however, said the bans could be turned into opportunities for Iran through resistance.
By exerting economic pressure on Iran, the US and Israel are attempting to "force us into isolation and pit the Iranian people against [the country's Islamic] establishment by making them lose their patience," he noted.
However, the nation has been withstanding the unjust sanctions that have affected their livelihood by targeting foodstuffs and medical supplies, among other things, the president said.
The president said the sanctions have not spared Iranians residing overseas either, putting many in tough circumstances. Nevertheless, they should also endeavor to turn this pressure into an opportunity, he noted.
Elsewhere in his remarks, Rouhani reasserted the Iranian nation's opposition to radicalism and terrorism.
He advised all Iranians living abroad to relay the nation's message of peace and friendship to the world and communicate the country's tendency to establish closer scientific ties with all members of the international community, especially Muslim countries.